Together with Ludgate Hill, to the east, and the Strand, to the West, Fleet Street forms the main thoroughfare that connected the cities of London and Westminster. Indeed, in earlier times, the Fleet Street name probably covered the whole way from Ludgate Hill to the Strand up to the Savoy. Taking its name from the River Fleet, which was one of London's main Thames tributaries and bounded the street to the east, it is particularly rich in historical associations. Its western boundary was formerly marked by Temple Bar (removed to improve traffic flow in 1878).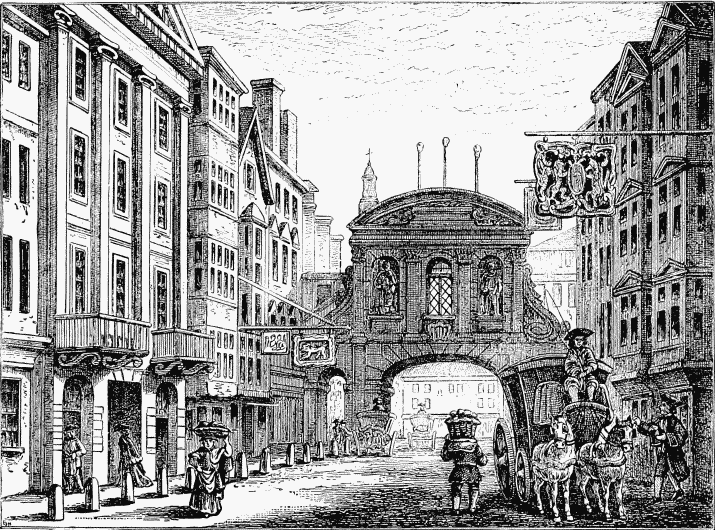 Fleet Street borders the area of London still largely inhabited by the legal profession but even before then it was lined with several bishops' palaces. From the 16th century, it attracted the printing trade and was, well into the 18th century, the heart of the English publishing industry. The first British printing press (1500) and daily newspaper (1702) were established here. From the 19th century Fleet Street contained the headquarters or London bureaus of virtually every major newspaper and, until the last of these decamped in the 1980s, 'Fleet Street' was the standard British metonym for 'the press' in the way that 'Wall Street' means 'finance' to Americans.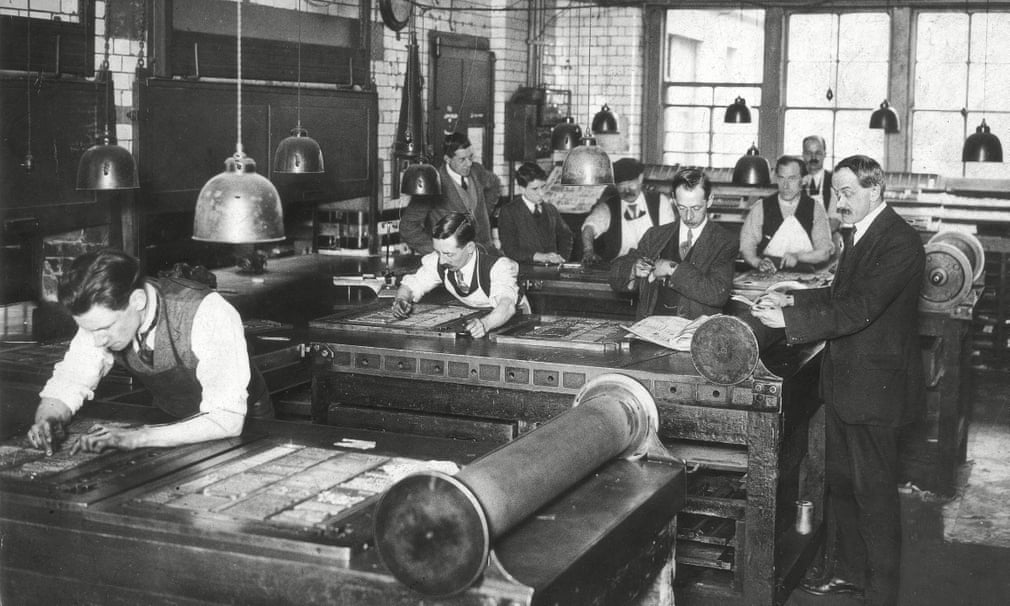 The most ancient establishment in its environs was the church of St Bride, which dates form the 7th century, though the building is by Wren. Henry the VIII's Bridewell Palace (15th century) was also nearby (along the Fleet, now New Bridge Street). It was also an important centre for insurance and banking, in the 17th to early 19th century, as well as tavern-keeping ('tippling street') and home to the first wax works exhibition in London. Several early bank, assurance and pub buildings survive. Despite continuous renewal of buildings here and a substantial 1895 road widening, the diversity of period and style along Fleet Street is as diverse as anywhere in London. Portions of 17th century buildings are still extant including a suit of Jacobean rooms at the Inner Temple Gate that pre-date the great Fire of 1666.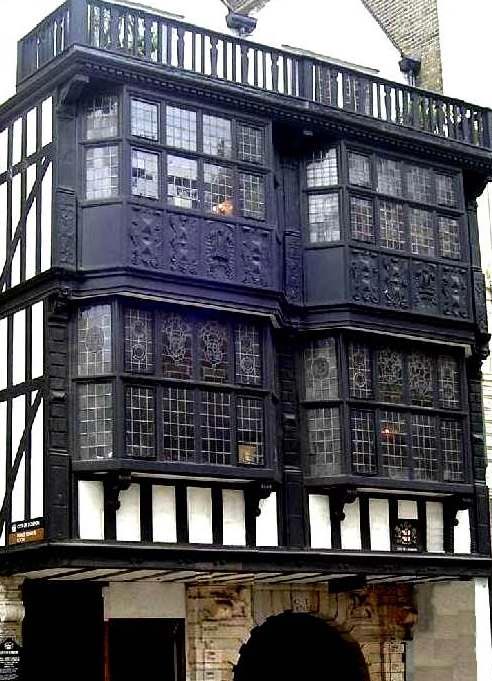 Many plots bordering Fleet Street retained, into the early modern age, the pattern of medieval agricultural tenure consisting of deep, narrow strips of land. This is clearly distinguishable from those facades that span only a modest width of street frontage in contrast to the height of the building. A number of highly decorated and imaginative solutions to this 'narrow lot' problem are visible along the whole of Fleet Street. Much of it is now a conservation area.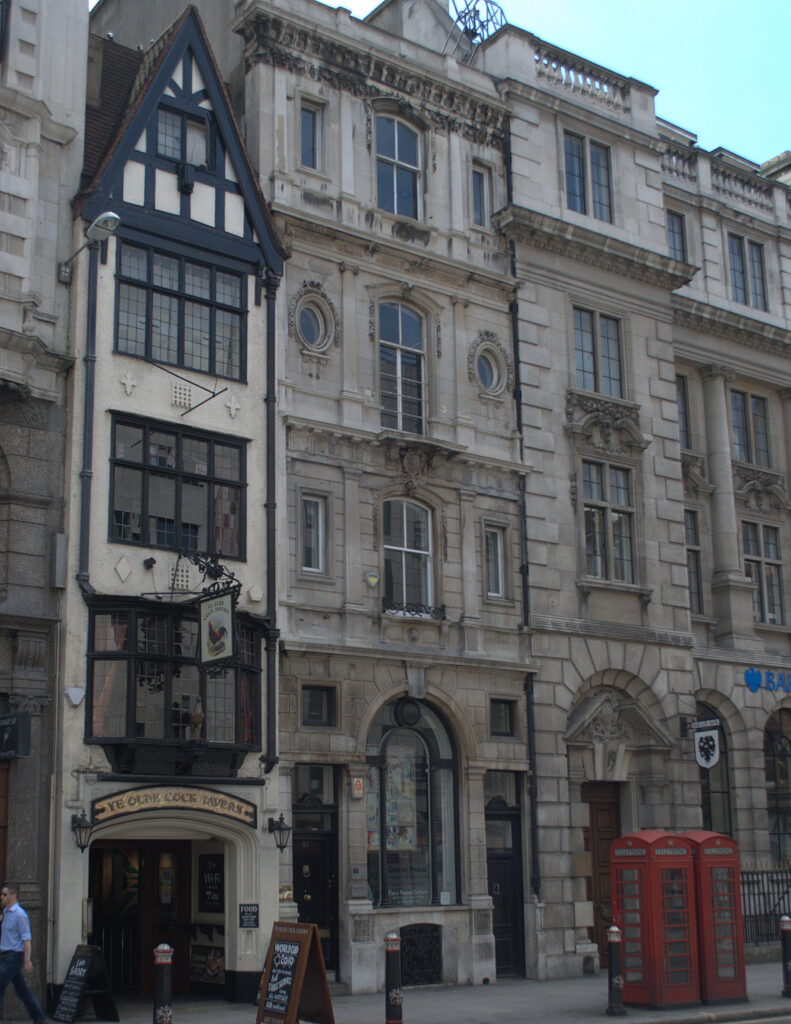 Classical buildings of interest (west to east)
(narrow frontages characteristic of Fleet Street are indicated with a *).
Though historically and stylistically significant the Daily Telegraph building, here, is Art Deco, rather than classical even in broad terms.
Child & Co. (1 Fleet Street)
Entrance to Middle temple
Bank of England branch (194 Fleet Street)
Legal & General Assurance (10 Fleet Street)
Attenborough & Son (193 Fleet Street)
Union Bank of London (14 Fleet Street)
Bookstore (16 Fleet Street) *
Goslings & Sharpe (18-19 Fleet Street)
London & Provincial Law Life assurance (21 Fleet Street) *
Temple Bar House (23-28 Fleet Street)
Promoter Insurance (29 Fleet Street) *
Law Life / Phoenix Assurance  (187 Fleet Street)
Messrs Philip (30 Fleet Street)
Hoare & Co. (37 Fleet Street)
40 Fleet Street
171-172 Fleet Street *
Norwich Union Insurance (49-50 Fleet Street)
Narrow frontages 53-60 Fleet Street *
J Lyons Café (61 Fleet Street)
The Scotsman (63 Fleet Street)
Bouverie House (154-160 Fleet Street)
Barclays Bank branch (80-81 Fleet Street)
Reuters / Press Association (82-85 Fleet Street)
Birmingham Post (88 Fleet Street)
Thomas Cook (Ludgate House) (107-111 Fleet Street)