leading to Sergeants' Inn Court
49-50 Fleet Street, EC4
Built: 1911-1912
Architect:  Jack McMullen Brooks
Location: Fleet Street
Listing: Grade II (1977)
The north-facing aspect of this grand Edwardian building is a good example of a facade that establishes a dignified, cohesive and symmetric effect along a street wall, despite a rather irregular articulation of the entire construct. Most notably, the two entrances, serve different purposes, with the left (eastern) one forming the main doorway to the building itself while the right-hand one affords access to the courtyard of Sergeants' Inn. Besides that inventive stratagem, the overall composition is balanced, consisting of a channelled ashlar base, a two-story ionic colonnade and an attic element, as far as horizontal organisation is concerned.
There is a tripartite division around the vertical axis as well. The central section is defined (from top to bottom) by a balustrade above the Ionic portico itself above arcuated entryways and a central sculptural group. That section is bracketed by lateral antae, where the order consists of engaged pilasters and the roof line is elevated by attic stories featuring a further cornice and rather grand festoons. The astylar base includes a semi-basement storey and an elevated ground floor, with a central element consisting of sculptural group of an allegory of justice (barristers) and plenty (insurance), by A.S. Young. See the picture at the start of this page.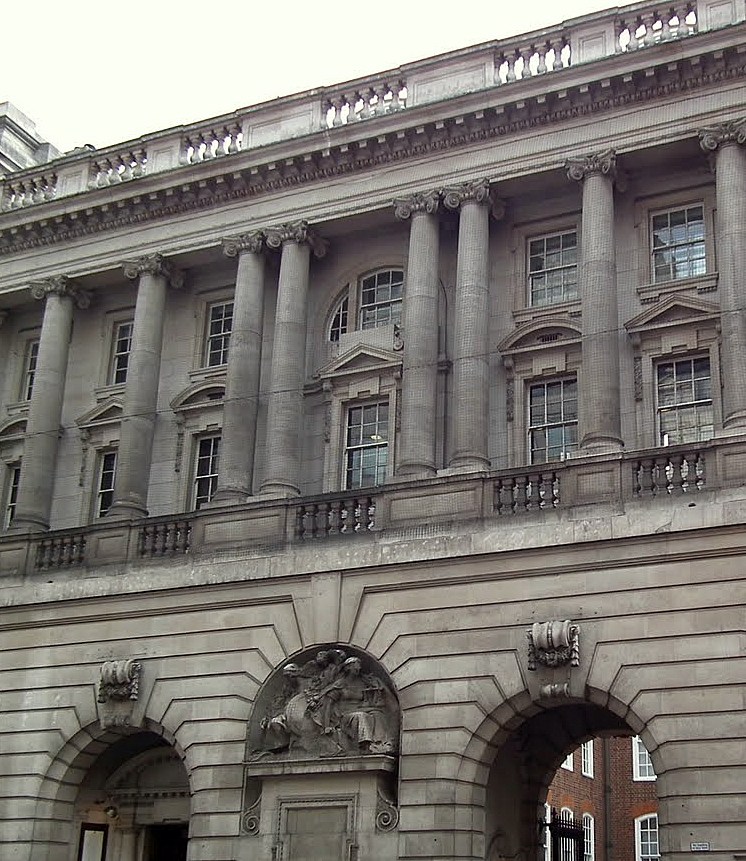 The history of this site and building are rather convoluted. Originally, it was largely occupied by one of the historical locations of Sergeants' Inn (an inn of court dedicated to a special type of barrister known as Sarjeants-at-law). This was also the site of the Amicable Society – one of England's earliest life insurers, being established here in 1706. The latter was later amalgamated into Norwich Union, whose previous original offices, here, were affected by road widening and rebuilt in 1911-12 in the current form. The fabric of 49-50 Fleet street, like much of the 1950s Neo-Georgian offices behind it, has adapted for use as a hotel.