Like Moorfields immediately to the east, the area currently occupied by New Broad Street and Blomfield Street was marshy and flood-prone, divided from London proper by the defensive wall and moa running east-west, at this point.   After 1527, the area was successfully drained and domestic buildings began to be erected, gradually extending northward.  The two main east-west passages between the older Bishopsgate Street and Moorfields were Bethlehem Lane and Petty France, named after its French residents.  North-south movement between Moorfields and Bishopsgate consisted of very narrow, discontinuous alleys.  In 1737, however, the long-standing Broad Street was extended north of London Wall, which it breached, reaching past Petty France, Bethlehem Lane and above the Bethlehem Churchyard.  That new north-south portion, as well as the former Petty France which intersected it, were called New Broad Street while the existing, much older stretch became Old Broad Street.  In 1930, the New Broad Street toponym was only applied to the east-west arm, with the rest being called Old Broad Street.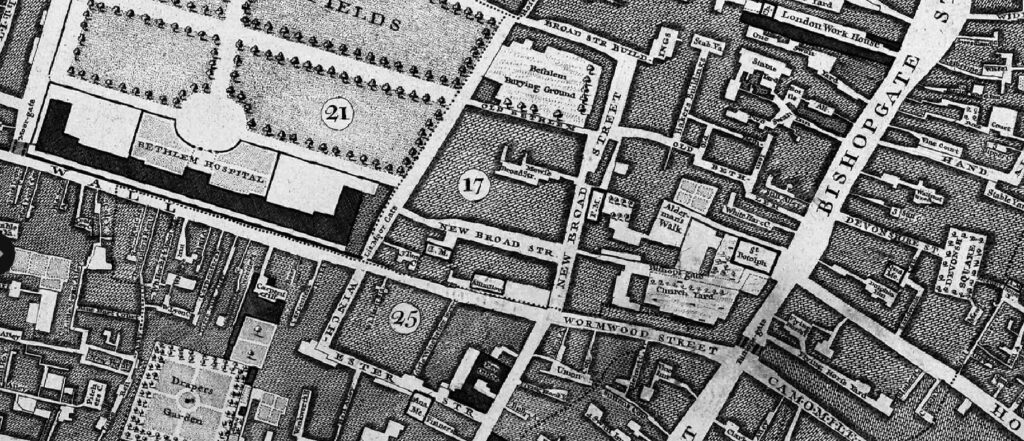 Similarly, Bethlehem Lane was widened and straightened in 1825-29, becoming the current Liverpool Street. Blomfield Street, running north-south, formed the eastern boundary of Moorfields and was called Broker Row until 1860, when it was renamed in honour of Charles James Blomfield, bishop of London and father of the prominent architect Sir Arthur William Blomfield.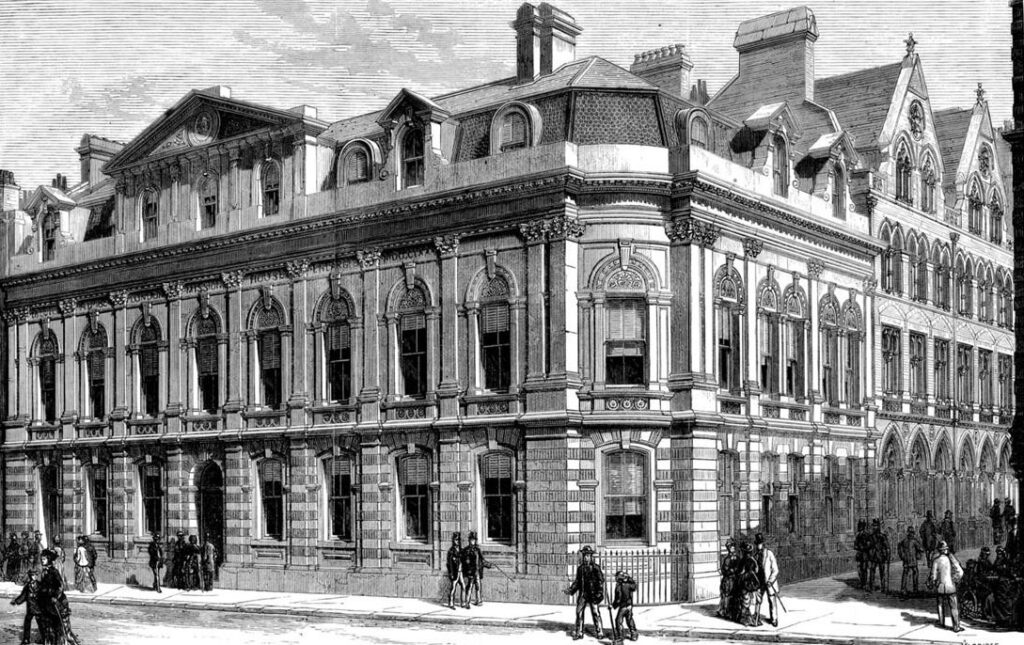 There are several excellent Neoclassical facades along Blomfield Street but, with the exception of Finsbury House, they consist mostly of 'returns' of buildings with the main aspect along London Wall, Finsbury Circus, and New Broad Street.
Despite a modern but not entirely incongruous addition at its SW corner, New Broad Street is mostly composed of buildings of the late part of the Edwardian period and therefore displays a satisfying visual unity, rather like Lloyds' Avenue.  The inexplicable, suburban-style cul-de-sac "upgrade" of its trafficability (in the 1990s) failed to abase its very urbane character.
Classical buildings of interest (clockwise, from the NW corner)
County House (44-46 New Broad Street)
Orient House (42 New Broad Street)
New Broad Street House (35 New Broad Street), created out of:
– Friars House (39-41 New Broad Street)
– Egypt House (36-38 New Broad Street)
– 30 New Broad Street / 81-91 Old Broad Street
Boston House (63-64 New Broad Street)
Capel House (56-60 New Broad Street)
City of London Real Property Company (53 New Broad Street)
Finsbury House (22-23 Blomfield Street)