Both New Bridge Street and the Victoria Embankment are relatively late additions to the City's largely medieval street pattern. New Bridge Street was created in 1764, essentially following the course of and covering over the Fleet Ditch, leading to the newly erected Blackfriars Bridge. The Fleet Ditch was itself a canalisation of the naturally occurring Fleet River. This large stream rises from sources in Hampstead and Highgate and flows via Holborn down to the Thames. It was originally navigable up to Holborn Bridge and frequently flooded downstream.









Debris and filth from the growing population regularly slowed the flow and periodically it underwent cleaning and preservation‒ for instance, in 1652 and again after the great fire, in 1670, when it was deepened and canalised (becoming known as the New Canal).
At the top of New Bridge Street, where Ludgate Circus (1864-1869) now stands, Fleet Street crossed onto Ludgate Hill via the Fleet Bridge.
In 1760 the first Blackfriars Bridge was begun, becoming the third Thames crossing after London Bridge and Westminster Bridge. It took nine years to complete but by the 1830s it required significant renovation due to faulty construction and was finally replaced by the current structure, begun in 1869. The first bridge's supporting columns are still in place.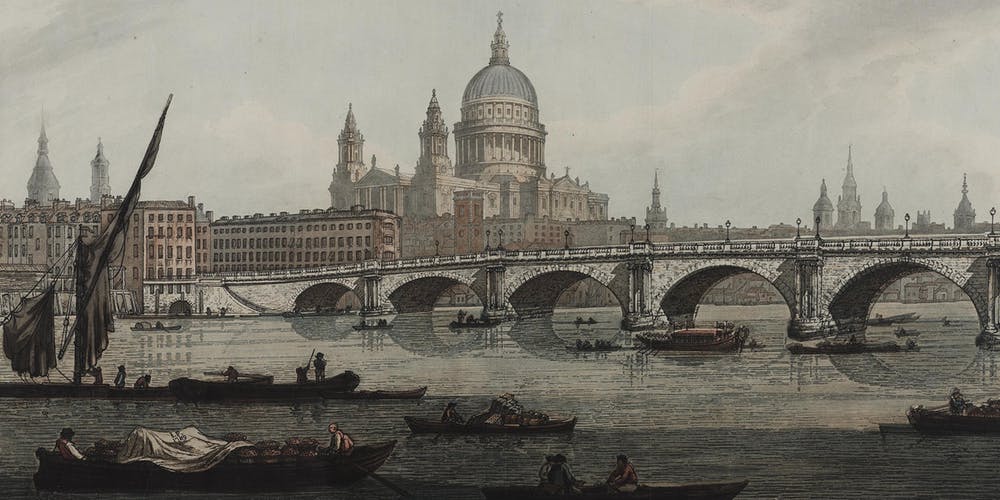 The Victoria Embankment is the eastern portion of the system of roadways, riverine embankments and rainwater and sewage collection tunnels designed by Balzagette. It was built between 1864 and 1870. Among other things, this collected sewage that had previously spilled directly into the Thames.
The most prominent building complex along what is now New Bridge Street was originally King Henry VIII's Bridewell Palace, later a prison, school and hospital.
Classical buildings of interest
13 New Bridge Street
Bridewell Gatehouse (14 New Bridge Street)
Rock Life Assurance (15 New Bridge Street)
London Missionary Society (16-18 New Bridge Street)
New Bridge Street House (30-34 New Bridge Street)
Spicer Brothers warehouse (19 New Bridge Street)
Unilever House (100 Victoria Embankment)
City of London School (60 Victoria Embankment)
Exchequer and Audit Department (58 Victoria Embankment)
Employers Liability Corporation (1 Temple Avenue)