100 Victoria Embankment, EC4
Built: 1930-32
Architect:  James Lomax-Simpson and Burnet, Tait & Partners
Location: New Bridge Street and Victoria Embankment
Listing: Grade II   (1977)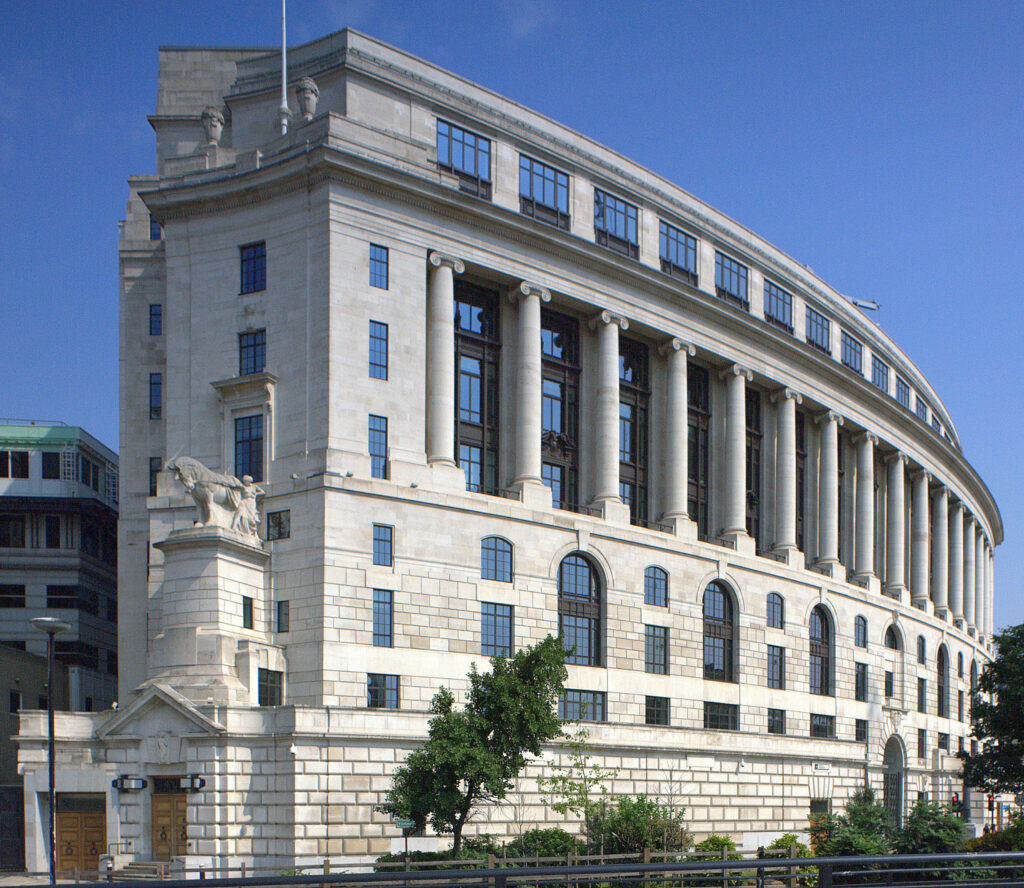 This imposing building occupies a prominent location as New Bridge Street curves towards and into Victoria Embankment, facing Blackfriars Bridge.  It has a wedge-shaped plan with a gently curved front that, together with the long vista, makes the large scale less daunting without subtracting in any way from its grandeur. Stylistically, the most noteworthy characteristics are the solidity of the lower storeys and the extended, widely spaced Ionic colonnade.  The ground floor, in particular, is almost fortress-like, with limited and bronze-gated opening in the middle and two further entrances at the corners being surmounted by heroically sized plinths and sculptures. The two successive storeys also feature rustication and a rather aloof air but concede more fenestration. After such a start, the giant (three storeys) order of Ionic columns in the round appears relatively lightly handled and nicely frames the subsidiary bronze screen behind it.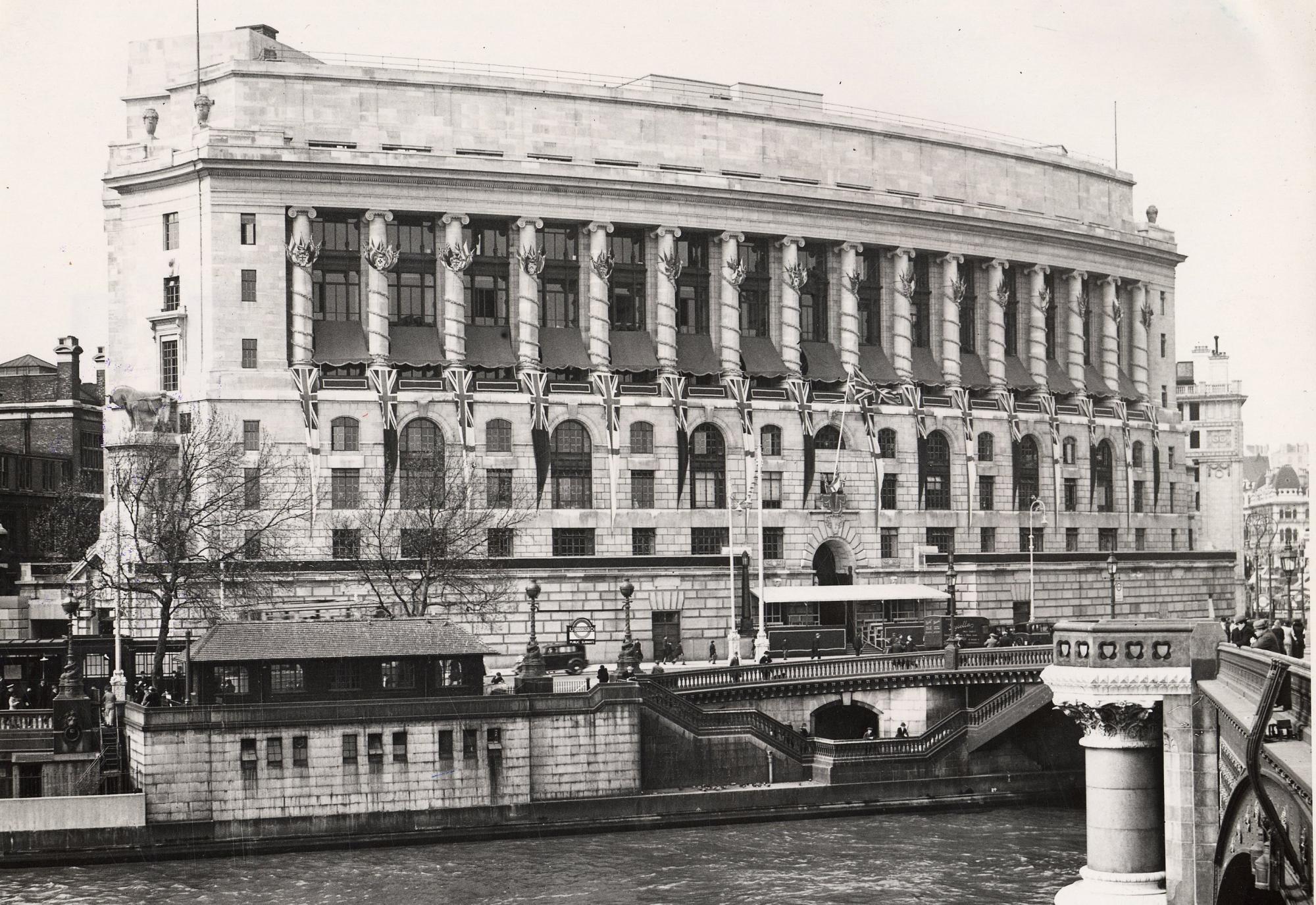 At the macro level, this is a purely classical building (albeit in stripped form), like several prestige headquarters of this period, indicative of a certain British stylistic conservatism relative to the Continent.  The taste of the applied decoration, however, fully embraces Art Deco style.  See the keystones in the ground-floor doorway arches and bronze gate grills, as well as the statuary of 'Controlled Energy' (a man or woman straining to contain a powerful horse) above the lateral entrances.
This large site was previously the location of Mr De Keyser's Royal Hotel (1874) which Unilever bought in 1921 and subsequently demolished. Unilever was created by the merger of two prominent consumer goods companies, the Dutch-based Margarine Unie and the British-based Lever Brothers.  As a non-financial company (albeit a large multinational), Unilever was somewhat atypical in establishing its headquarters in the City, by then dominated by the finance industry.  The building still houses some of Unilever's offices.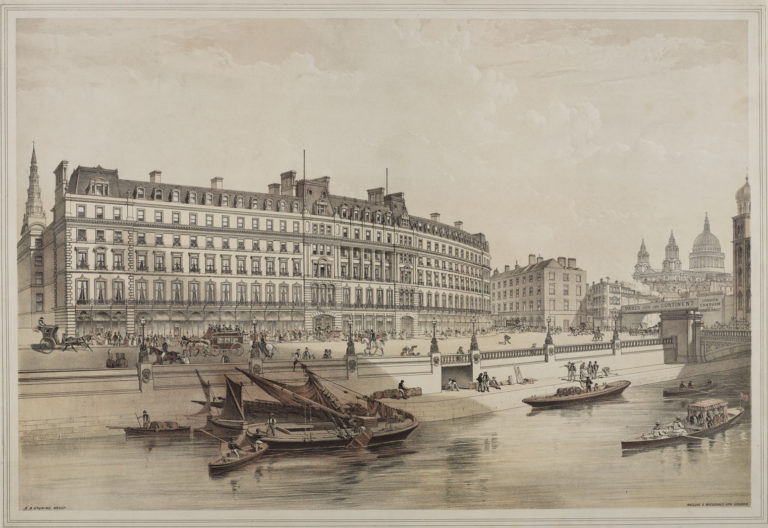 Note that there was some controversy between Lomax-Simpson (a member of Unlivever's board and in-house architect) and Burner, Tait & partners, about the importance of each other's contribution to the design. It is generally thought that the former came up with the original design but that it was significantly adapted by the latter.
Unilever House underwent two major refurbishments in recent decades.  At the turn of the 1980s, the interiors were refurbished (with some retention of original features) and an extraneous 'north wing' was added. At this time, the previously windowless 8th floor was slightly lowered and endowed with fenestration.  The second, more brutal, change came in 2004-06, when the interiors was largely gutted and replaced by generic modern floor plates and a full-height atrium.