15 New Bridge Street, EC4
Built: 1908-1909
Architect: See note (*)
Location: New Bridge Street
Listing: Grade II (1974)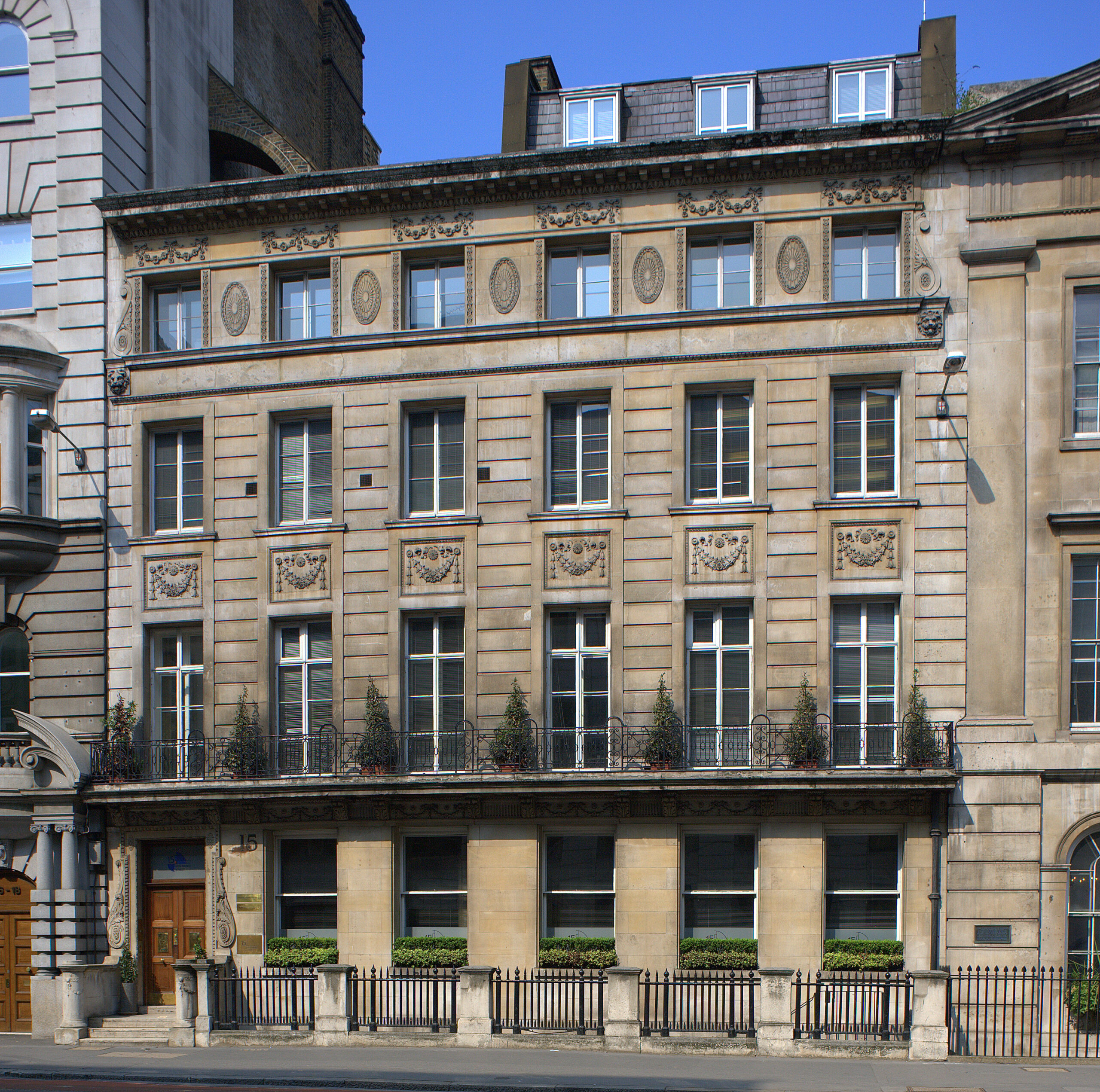 Between the graceful, Georgian Bridewell Hospital Gatehouse (N. 14) and the more ornate Victorian London Missionary Society (N. 16-18) rises an elegant facade, at N. 15 New Bridge Street. Published sources do not list an architect for what appears to be an Edwardian facade applied to two existing, adjoining Georgian terrace houses. Buildings of England merely says that the "early 19 C. fabric may survive behind Edwardian facade".
The astylar, four-storey building is simply organised across six window bays that are divided by simple piers (rusticated in the middle two storeys). Above the ground floor / base, a wrought iron continuous balcony marks the piano nobile while a simplified architrave separates the two middle floors from the attic, itself terminating in a cornice.
Delicate, low-relief carving is applied to the third-storey window aprons, fourth-storey piers and the final entablature. The only entrance retained out of the two that once existed is, asymmetrically, to the left. Tellingly it corresponds to the position of the doorway of the original left-hand terraced building. Overall, it is a fitting and satisfying building; neither calling undue attention to itself nor failing to rise to its location along a major road.
The 1838 street view by Tallis shows two ordinary terraced houses, just south of the Bridewell Gatehouse. That location is shown in Goad's 1886 Insurance Atlas (vol II) as the Rock Life Assurance office. The Rock Life Assurance company was one of the earlier life insurers in Britain, having been established in 1806. According to Anglo-American Life Insurance, 1800-1914 (Volume 1) Rock Life Assurance was an early adopter of with-profits policies and a pioneer in relying on an in-house actuary, a certain William Frend. On-line sources such as a 1825 policy document have its address as New Bridge Street and does an advertising poster of 1882.
(*) We have been unable to ascertain the architect who designed the new façade of 15 New Bridge Street.  Notes by Bradley point out that "RIBA nomination papers for Arthur Let have No. 15 altered for Rock Life Assurance, 1890, but the front hardly seems plausible for then.".  A thorough research of the Board Minutes of the Rock Life assurance company (1900-1909) shows that Charles Edward Barry was retained on numerous architectural issues surrounding that property but there is no direct attribution of the design to him. RIBA's records do not show an exhaustive list of C. E. Barry's works, so the potential attribution of this building to him is conjectural.