(including Queen Street Place)
Following the Great Fire of 1666, a number of proposals were advanced for the reconfiguration of London's street pattern and building practices.  While the latter underwent wholesale change, it is a well-known fact that the urgency to rebuild and the difficulty of altering property lines largely put paid to rather grandiose plans to make the street pattern more rational and 'modern'.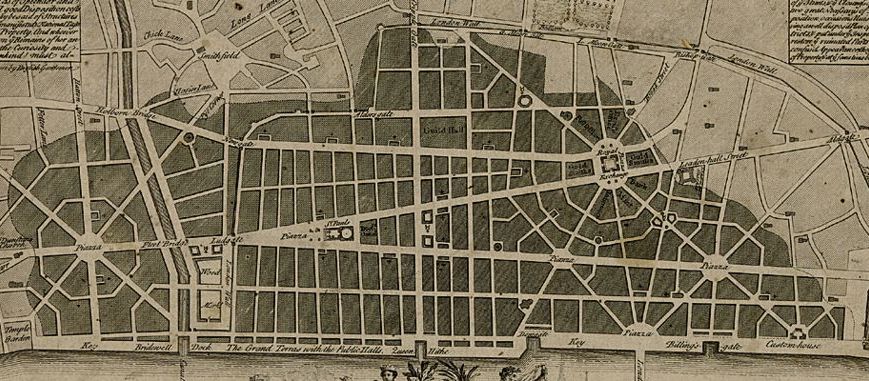 The only major exception to that rule was the decision by the Committee of the Common Council to supervise the creation of a direct surface link from Upper Thames Street to Cheapside and from there on to the Guildhall Yard.  The northern portion ‒ from Guildhall to Cheapside ‒ was named King Street and the southern portion ‒ from Cheapside down to Upper Thames Street ‒ was named Queen Street.  Due to their novelty and the preceding existence of a number of quite minor homonymous lanes called 'King' or 'Queen' Street, they were initially referred to as New King Street and New Queen Street but those qualifiers were dropped early in the 18th C.
The new streets were partly built over existing lanes, such as Soper Lane and Brodelane, which disappeared.  When the privately built Southwark Bridge was erected in 1819, it was placed at the end of Queen Street and the southward reclamation of land below Thames Street, in the 19th C., led to the creation of Queen Street Place, which runs into Southwark Bridge. King Street and Queen Street cut through three City wards (N to S): Cheap, Cordwainer and Vintry.
Later road widening and the creation of streets elsewhere, as well as seemingly random bouts of pedestrianisation, have robbed King and Queen Street of their original importance in the trafficability of the City of London, but they retain a number of interesting buildings in the broad Classical idiom.
Classical buildings of interest (north to south)
Blackwell house (23 King Street)
Queen's Assurance Co. (42-44 Gresham Street and 20 King street)
28 King Street
16-17 King Street (now numbered 15)
15 King Street
Kings House (36-37 King Street)
Atlas Assurance (3 King Street and 92 Cheapside)
Regina House (1-5 Queen Street and 67 Cheapside)
Banca Commerciale Italiana (90 Queen Street and 70-72 Cheapside)
6-7 Queen Street
Golden Fleece Tavern (8 Queen Street)
18th C. houses (27+28 Queen Street)
Warwick House (65-66 Queen Street)
The Rex Building (62 Queen Street)
Liebig (Five Kings House and Thames House)
Vintners Place