3 King Street and 92 Cheapside, EC2
Built: 1834-36
Architect:  Thomas Hopper
Location: Cheapside & Poultry
Listing: Grade II (1972)
Atlas Assurance was founded in 1808 to transact life and fire insurance business and was absorbed by Royal Exchange Assurance in 1959. For much of its history, it was headquartered in this building, with the address as 92 Cheapside.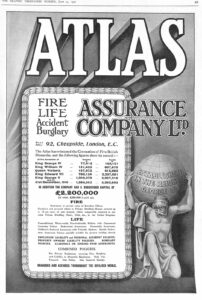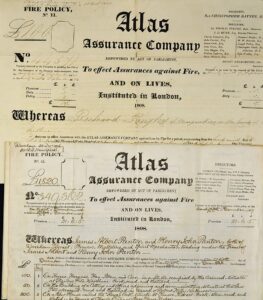 This is a long, narrow, much-extended and altered building with aspects on King Street, Cheapside and Ironmonger Lane. The original Cheapside facade did not feature a portico, which was added in 1952 after repairs of extensive war-time damage. Additions to the 1836 original include northward extensions by Clifton (1857), Waterhouse (1894, including the 1 King Street entrance, modified in 1929), Waterhouse & Ripley (1952, creation of portico on Cheapside). Although mostly faced in Portland Stone, Atlas House's ground floor is in Cornish Grey Granite, an early use of this material in the City.
The overall effect of this structure, especially from Cheapside, where the original work by Hopper is most prominent, is one of the most elegant in the City. The quality of classical balance is present in all the main elements: the details of the module, the arrangement of the parts and the proportions of the main space.
Starting with the basic module, it consists of a rusticated ground storey of arched window or portico opening. Note the humane scale of the blocks and honesty of the channelling. Above this astylar floor, which terminates in a simple moulded fascia, rise two similar storeys where the module consists of a series of refined aediculated windows with alternating segmental and peaked pediments. At the corners, these are framed by coupled Doric (2nd storey) and Composite (3rd storey) pilasters.
The Cheapside aspect also features single pilasters between each window. The 2nd storey entablature is rich in moulding but with a plain frieze and cymatium, while the 3rd storey entablature is embellished by consoles supporting the terminating cornice, below a full-length and particularly light balustrade.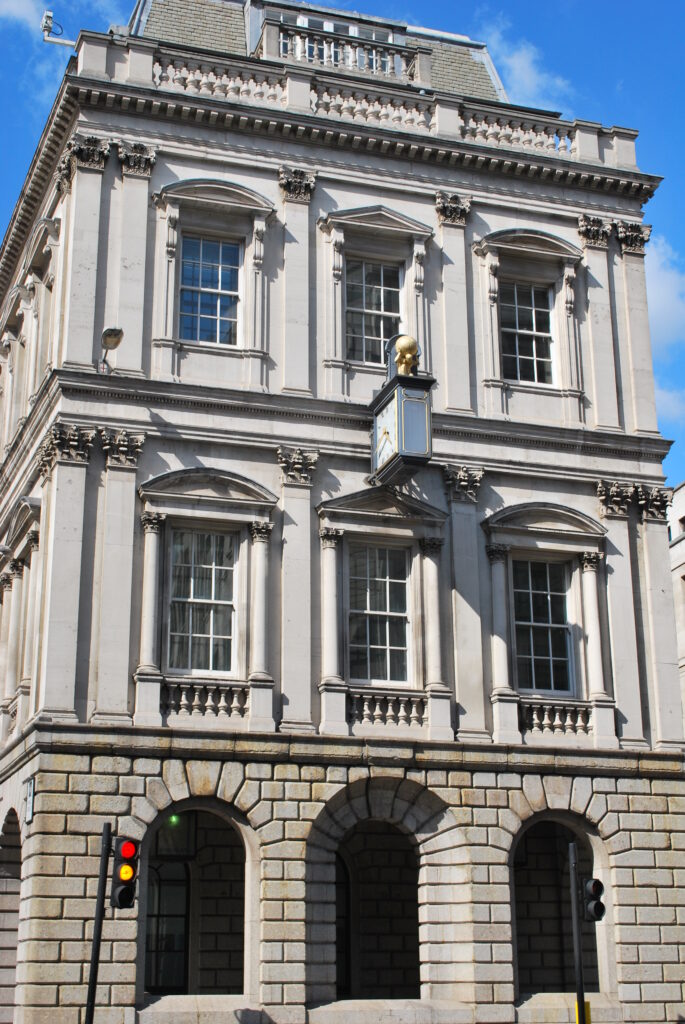 The scale and proportion are too clearly visible in the illustrations to merit much comment here except to reiterate the exquisitely human scale. The main entrance was moved to King's Street, where a fine carving of Atlas surmounts it, but the rare (for London) pedestrian archway in the Cheapside aspect more than makes up for that dislocation.