24-28 Lombard Street, EC3
Built: 1912
Architect: Gordon & Gunton
Location: Lombard Street
Listing: Grade II (1974)
As is usually the case in Lombard Street, a number of buildings and tenants have succeeded each other on this site. For instance, in 1819, this was the site of Chatteris, Whitmore, and Co (1774 – 1841). The current building was commissioned by Royal Insurance, which, based on an 1865 print, previously had offices at 5 Lombard Street. Interestingly, a 1957 photograph shows the signs of a Cat playing a bass or viola (which some sources believe is the reproduction of a pub sign!) and one of a King (Charles II or William III?) hanging not from this building but from the one opposite.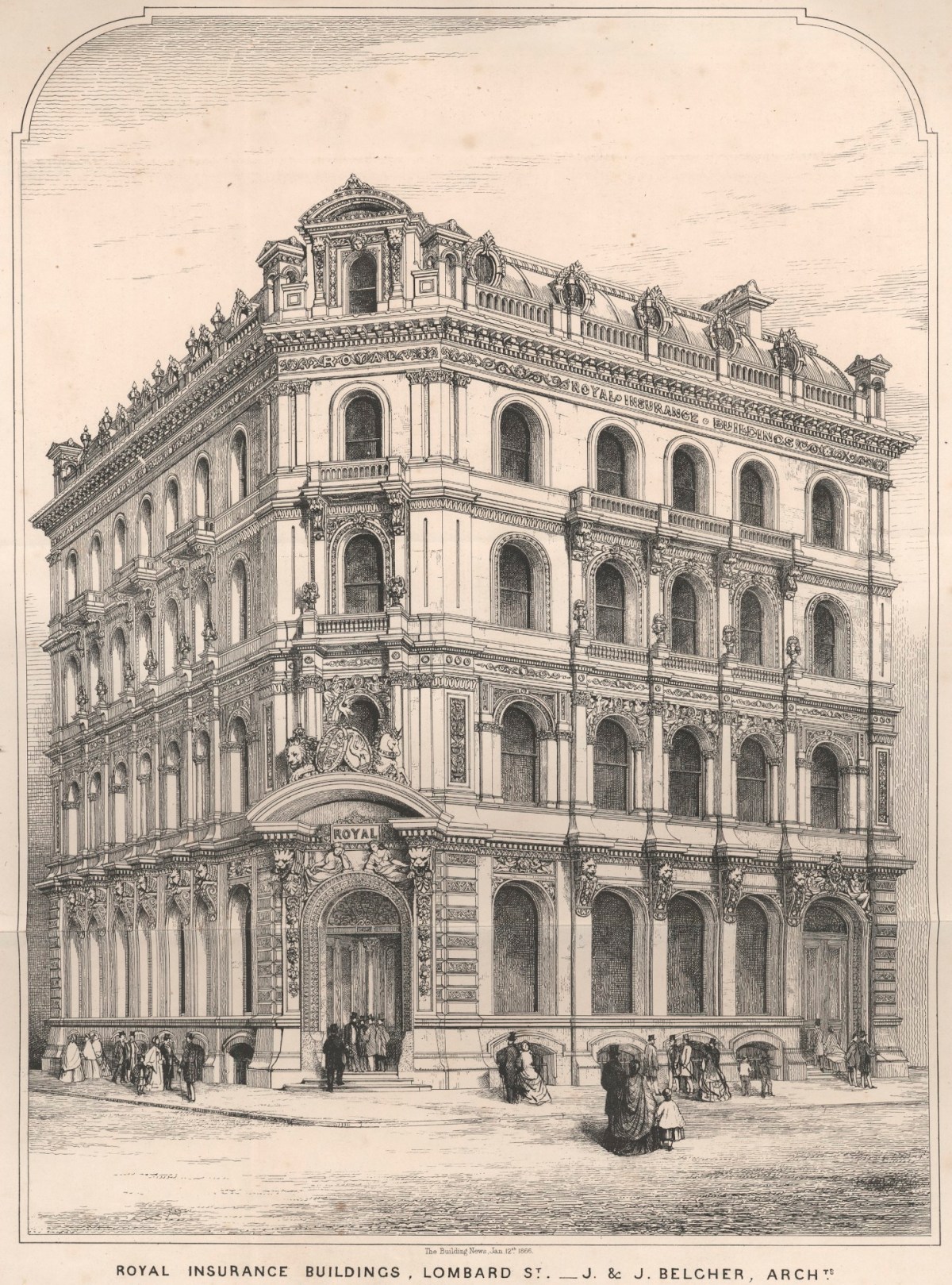 Architecturally, the muscular, sculptural quality of the Lombard Street prospect is further enhanced by energetic application of some sculptural detail. The Arched ground floor with banded rustication is surmounted by a giant Ionic order and a robustly aediculated entrance whose segmental cornice is repeated above the third storey. This might perhaps have sufficed without the addition of balconies, bay windows, and pedimented lintels alternating along the façade as well as corner turrets.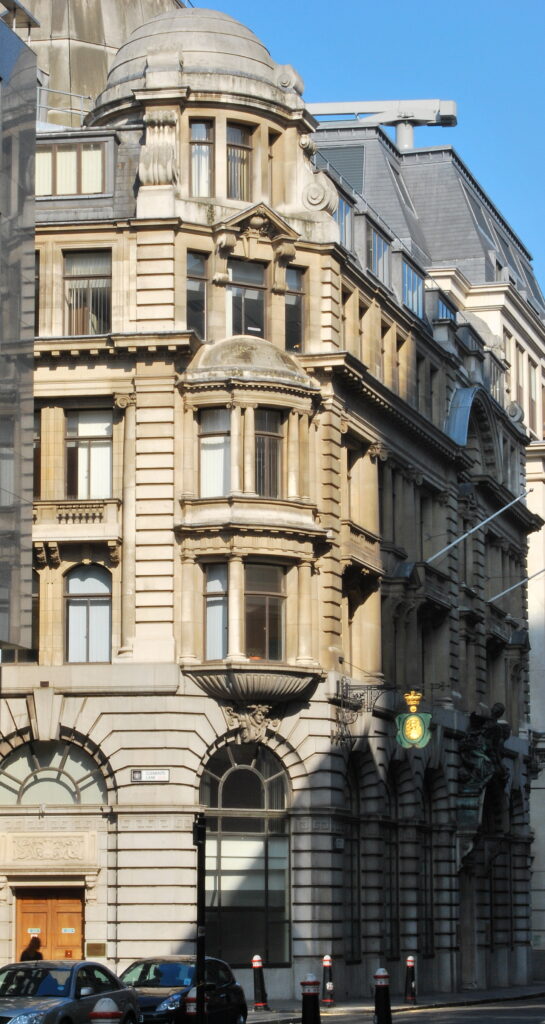 Relative to the moderate size of the building this smacks of overzealous charging and the impression is not relieved by the monumentality of the allegorical statuary group above the entrance. The latter is by F. W. Doyle-Jones and represents 'fire' and 'sea' (key insurance risks) sitting at either side of a chimera. Note too the lion's head below the vault of the arch.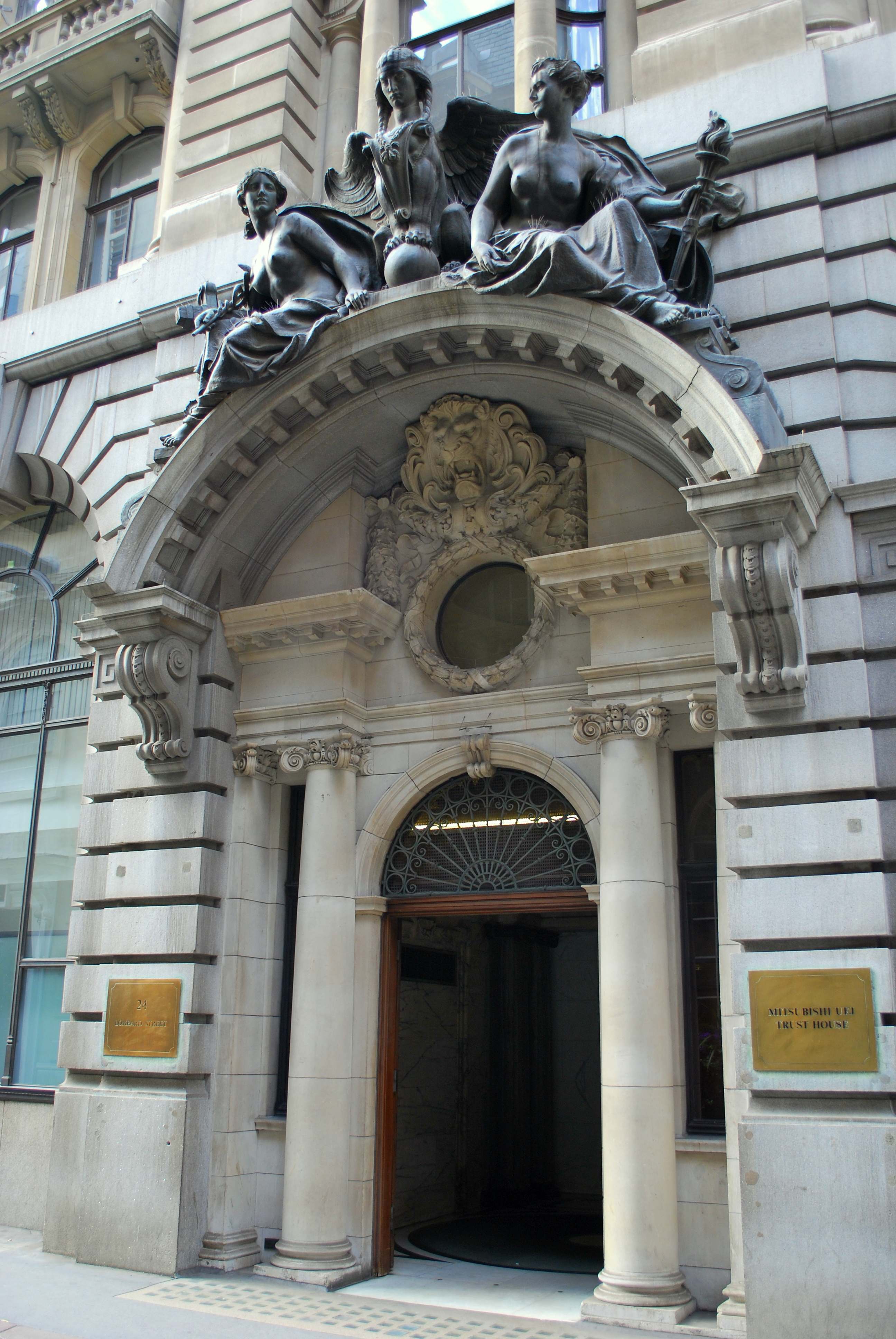 Royal Insurance (not to be confused with Royal Exchange Assurance) was founded in 1845 in Liverpool to offer damage and life policies. It eventually merged in 1996 with Sun Alliance to from RSA, which is still based in the City, on Fenchurch Street. This building now houses a Japanese bank's London offices.