126 Chancery Lane, WC2
Built: 1857
Architect: John Wornham Penfold (also spelled Warnham)
Location: Chancery Lane
Listing: Grade II (1972)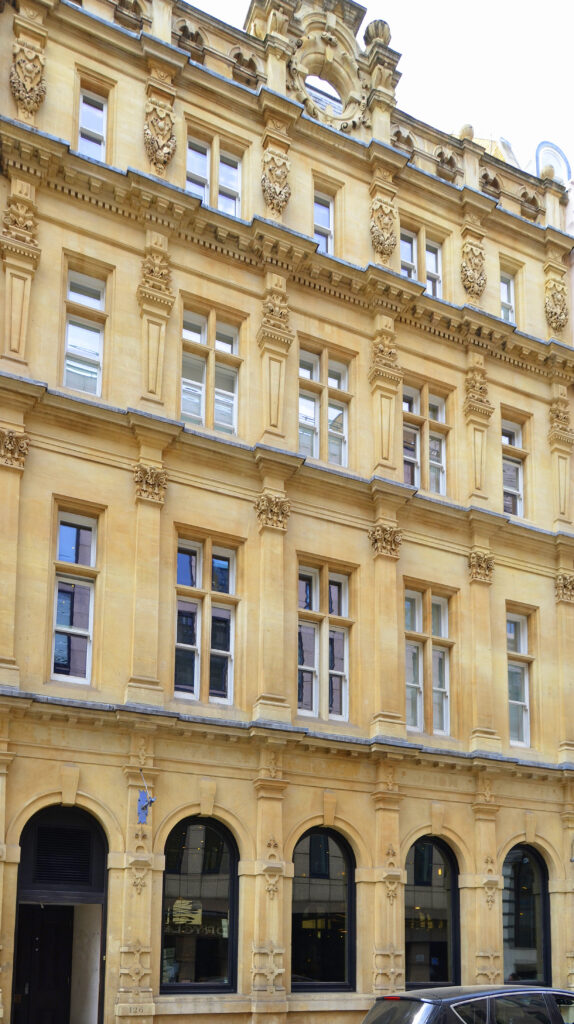 The Law Union Fire and Life Insurance Company (Law Union Insurance for short), was established in 1854, temporarily residing at 45 Pall Mall.  Very soon after its foundation, it retained Penfold to design headquarters for it at No. 126 on Chancery Lane, close to its target client base of legal professionals.  Over the years, it absorbed the Crown Life Assurance Company (1892) and the Rock Life Assurance Co. (1909).  In 1912, the company, now known as Law Union and Rock Insurance ,moved further north along Chancery Lane, to No. 7 (the former "Old Serjeants Inn"), only to be itself taken over in 1919 by the London and Lancashire Fire Insurance Company.
The building at No. 126 is a roughly rectangular box, with all the architectural interest expressed by its "yellow-brown" stone façade on Chancery Lane.  The overall composition is essentially Mannerist but with added, rather fanciful, mid-Victorian decorative devices that propel it from lively to somewhat voluble.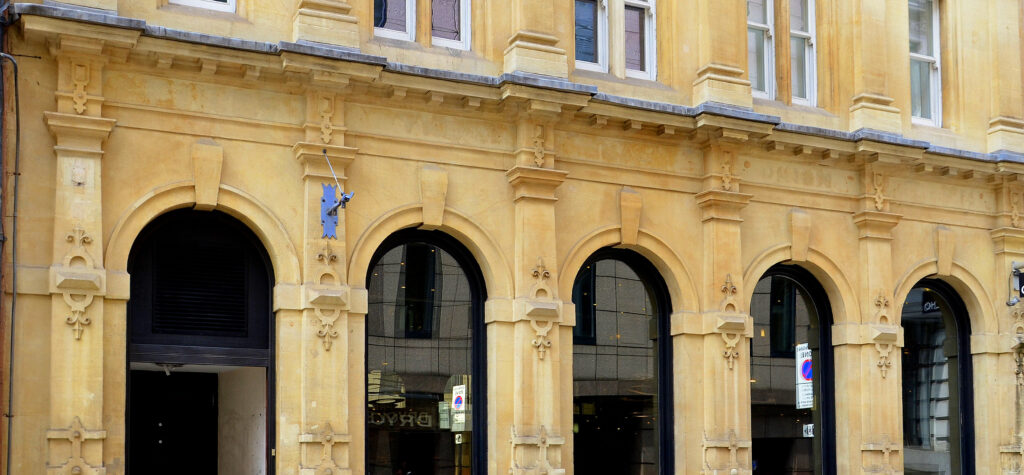 The five bays are set in an basically symmetric arrangement (the entrance is on the left) and the vertical module follows a regular pattern.  It begins with tall, arched openings, fronted by Tuscan pilasters, on the ground floor.  This is followed by a Corinthian order of rather jauntily topped pilasters. The third storey sports terms with a simplified Doric (?) entablature and then more pilasters on the following floor.  The whole is topped by an unusual but pleasing parapet which, in the central bay, features a baroquely ornate, pierced oculus structure.
The aforementioned applied decoration includes bracket- or clamp-like reliefs on the ground floor and rich carvings of the two upper storeys.  The friezes and architraves are rather simplified and largely blank but the entablatures follow a repeated returning pattern over each vertical element.  The combination of Italianate elements with fanciful 'Northern' decoration is probably the reason that Buildings of England deems it "Neo-Jacobean", given that period's less tutored approach to Classical themes.
Together with the historical buildings next door, at Nos. 125 and 122-124, the former Law Union Insurance building appears to have been entirely gutted above the ground floor and rebuilt as a single set of flats.