16-18 Finsbury Circus, EC2
Built: 1921
Architect: Gordon & Gunton
Location:  Finsbury Circus
Listing: Grade II (1977)
Park House was designed in 1915 but only constructed post-war, as happened to most major projects of that era. In the 1990s, the interiors were largely replaced and the building extended north to Eldon Street, but fine stairs were retained as well as the Finsbury Circus facade. The overall effect is one of great regularity and poise, benefiting from the dynamism of the concave footprint but eschewing some of the stylistic exuberance of the south side of the Circus.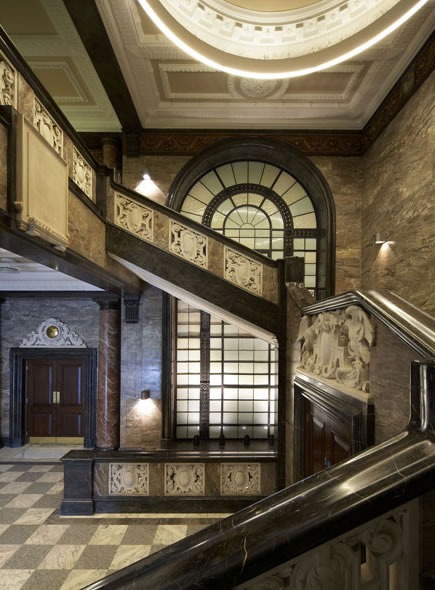 Two large pier sections bracket each end of the frontage, their lithic solidity relieved by scalloped chamfered corners. The sides and central bay are granted continuity by the base consisting of ground storey, with pronouncedly arched windows, and a mezzanine, all of which rests below a prominent cornice. The entrances, marked by Doric porticos, are at each end of the central section which from the third storey up, features a colonnade of ten giant engaged Ionic pillars with angled volutes.