125 Chancery Lane, WC2
Built: 1855-56
Architect: George Legg
Location: Chancery Lane
Listing: Grade II (1972)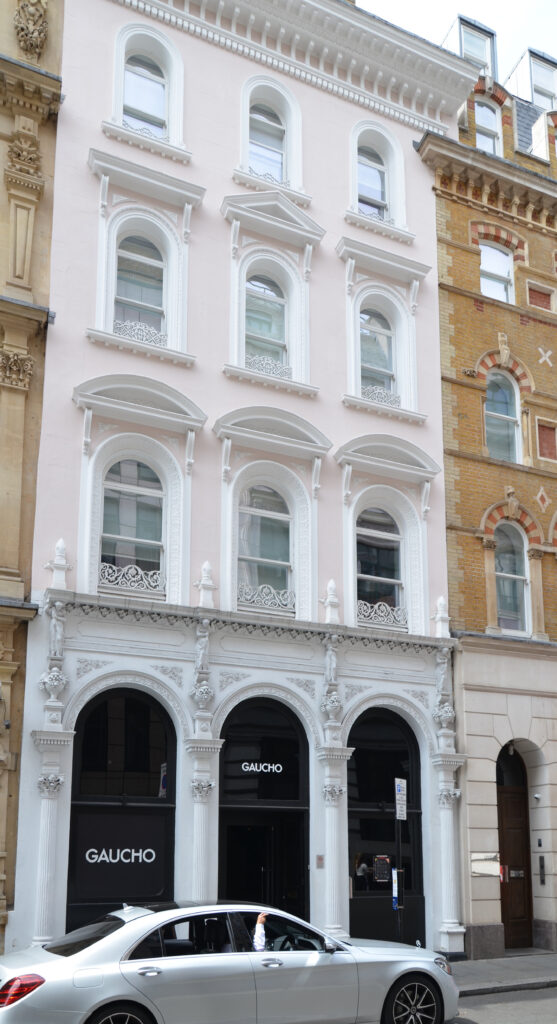 Within the compendium of facades boasting Classical elements in the City of London, the Mitre Tavern is evidently relatively modest in scale and ambition. Nonetheless, it represents a noteworthy example of a hospitality business with greater aspirations than most public houses or chop houses, with its fashionable stucco finish and design by a fairly prominent architect.
The name (a common one for pubs) probably references an earlier, well-known hostelry nearby on Fleet Street, which was demolished to make way for Hoare's Bank when they enlarged their headquarters there. Drawing on a comparatively affluent legal clientele, the Mitre Tavern was refurbished in the mid-C19 to its present aspect.  Together with the historical buildings next door, at Nos. 126 and 122-124, the internal portions of the buildings were thoroughly rebuilt above the ground floor, to serve as a single set of flats.
The overall composition is typical of a higher-end, commercial terraced building of its time, with arched ground-floor windows, followed by pedimented (but still segmental) ones on the subsequent two storeys. A further storey leads to a prominent, double-tiered cornice.  Among details of interest is the engaged Corinthian order framing (rather than supporting) the ground-floor arches. Atop the fragmentary entablature of said columns, we observe full Classical pedestals surmounted by urns from which debouch bunches of grapes.  The ground-floor cornice is propped up by caryatids while then smaller pedestals at the Piano Nobile are topped by bishop's mitres.  Prettily lace-like cast-iron grills front the lower part of each window.