Now divided into Five Kings House and Thames House
5 Queen Street Place and 1-4 Queen Street Place, EC4
Built:  1911-12
Architect:  Thomas Edward Collcutt and Stanley Hinge Hamp
Location:  King Street and Queen Street
Listing:  Grade II  (1983)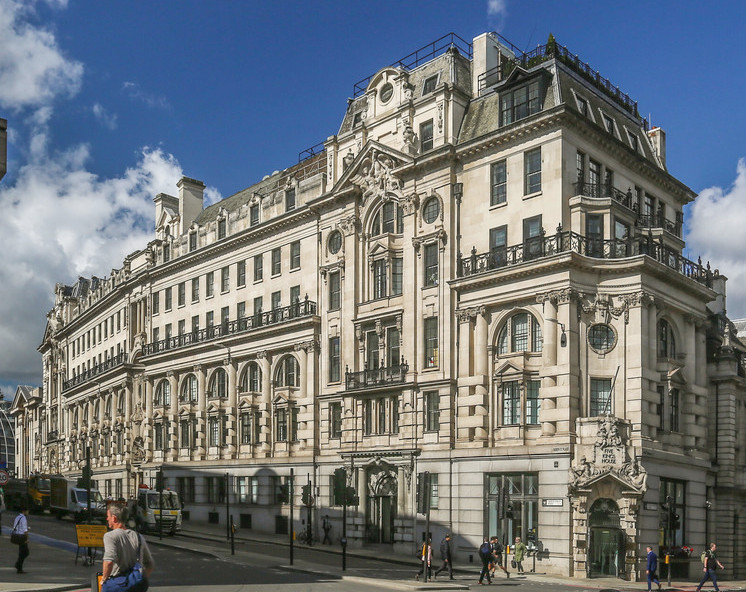 Most London-based people with an interest in architecture are familiar with the OXO tower, the remnant of a large storage facility for the Liebig Company's brand of OXO cubes.  Fewer know that the parent company, Liebig, had its head offices in this grand Queen Street Place building, between 1912 and 1986.  The Liebig Company's headquarters were in London since its founding in 1865.  An 1893 advertisements places them at 9 Fenchurch Street while another advert (1905) puts them at Lloyds Avenue – a development with which Thomas Collcutt was heavily involved.  Liebig must have needed larger premises, because in the 1911-12 period they erected a six-storey, 19-bay building along Queen Street Place (and three bays along Upper Thames Street) which remains in place.  The whole edifice was known originally as Thames House.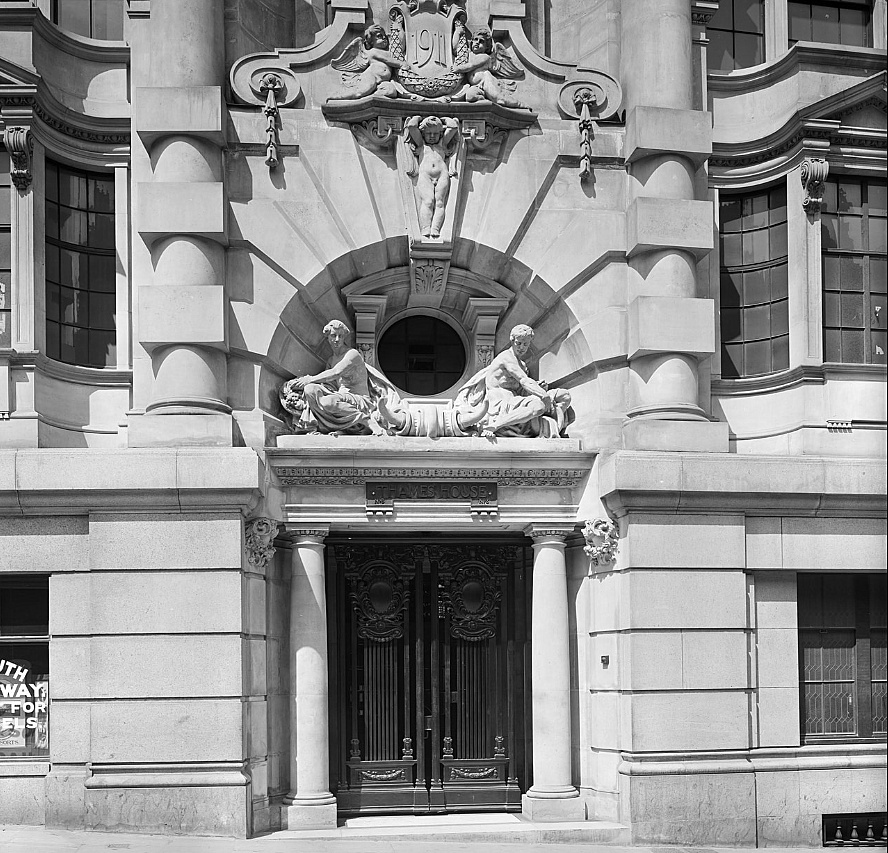 The company (by then known as Brooke Bond Liebig) finally departed in 1986, following a take-over by Unilever, and moved half a mile upstream, to Unilever House, where they remain. After Liebig left, the whole area around Vintners Place was redeveloped. Vintry House (1930), which "infringed on the St Paul's Cathedral heights limit", and several other buildings were demolished but the exterior and northern extremity of Thames House were retained. The southernmost 11 bays of Thames House, which still use that name, were incorporated in the Neoclassical and Postmodern Vintners Place complex. The northern, corner element (seven bays along Queen Street Place and three bays along Upper Thames Street) was more fully preserved as a separate suit of offices and is now known as Five Kings House.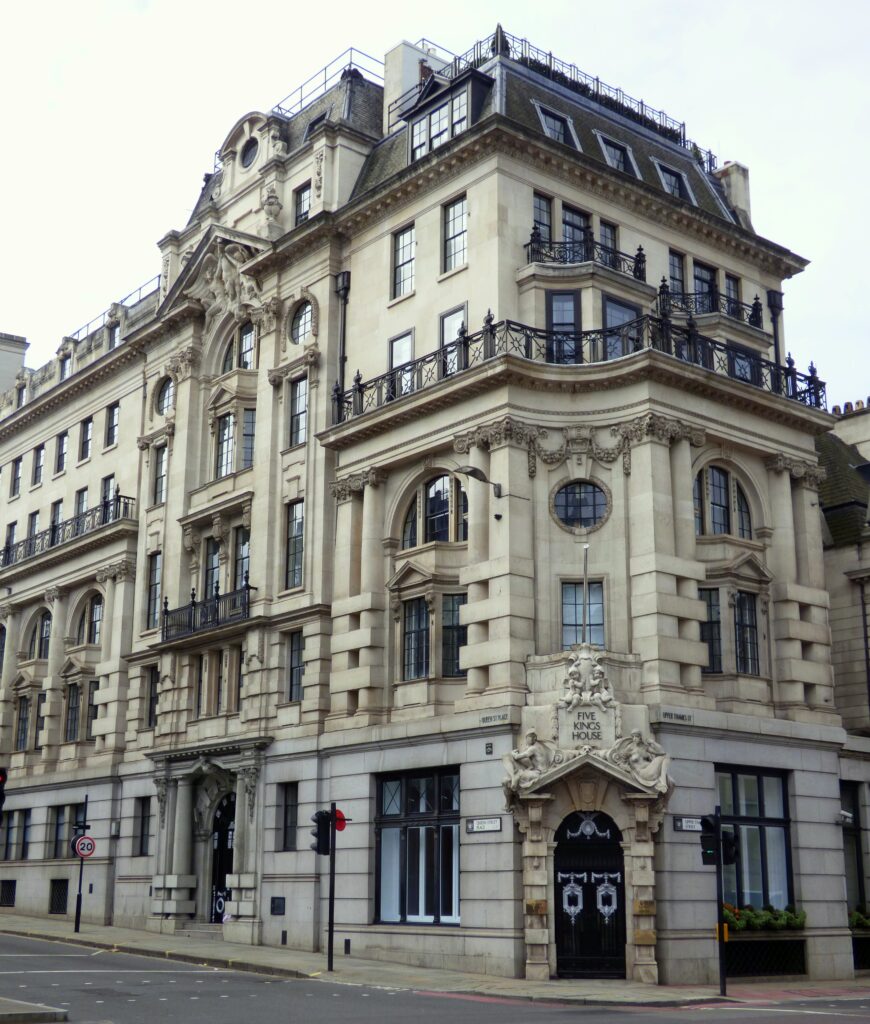 The external aspect of Thames House and Five Kings House was conceived as a single entity and is best understood and examined in those terms. It is a very long (N-S) but quite narrow (E-W) building consisting of an essentially symmetric quinquipartite façade to which is added, at the intersection with Upper Thame Street, a further corner element which repeats the ornamental and compositional themes of the main elevation.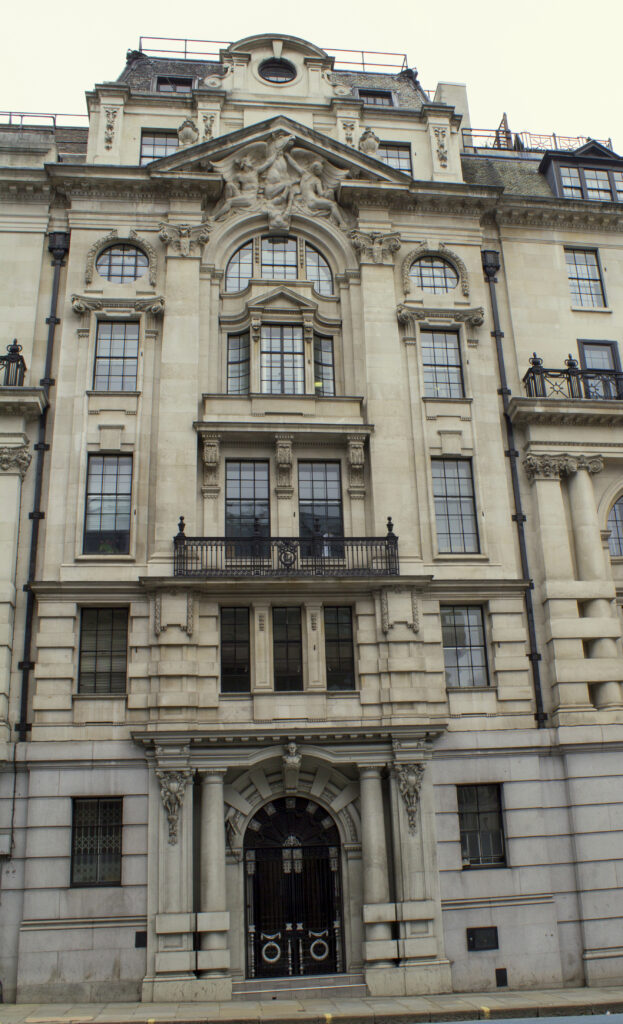 The horizontal composition of the main façade consists of two elaborate, three-bay antae surrounding two extensive, 10-bay sections themselves flanking a rather narrow though sculpturally rich central section. The lateral antae share only some vertical elements with the rest of the main façade: the rusticated ground storey, two coupled Ionic pilasters at the outer end and the main cornice just below the attic storey. Unique to the antae are such elements as complex, arched doorways with banded piers and archivolt, a separate distyle giant composite order of pilasters and a terminating, open-base pediment with a sculptural group that occupies both the tympanum and the spandrels of the subjacent arched window.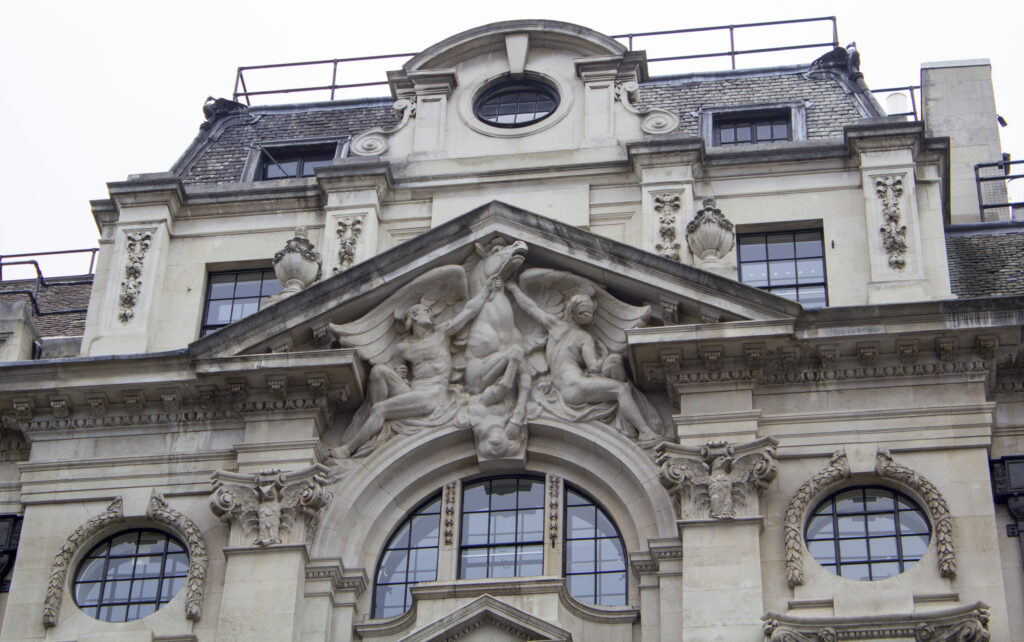 Despite a number of added sculptural elements developing upward from the doorway, with its Tuscan columns, the central entrance elevation follows the broad vertical organisation of the main façade. This includes the aforementioned ground storey with channelled rustication and a giant two-storey Ionic order of engaged, blocked columns which fronts an elaborate set of concave, pedimented windows surmounted by thermal windows, all contained in a subsidiary arch. Above the entablature of this order, rise two rather plain storeys followed by the main cornice, an attic storey and the mansard roof.
Those themes are carried over to the corner addendum, albeit with a set-back and terrace above the third storey and another opulently carved entrance arrangement in the canted corner. Notably, an original board room appears to have been retained in the latter section, which forms the bulk of the now separate Five Kings House.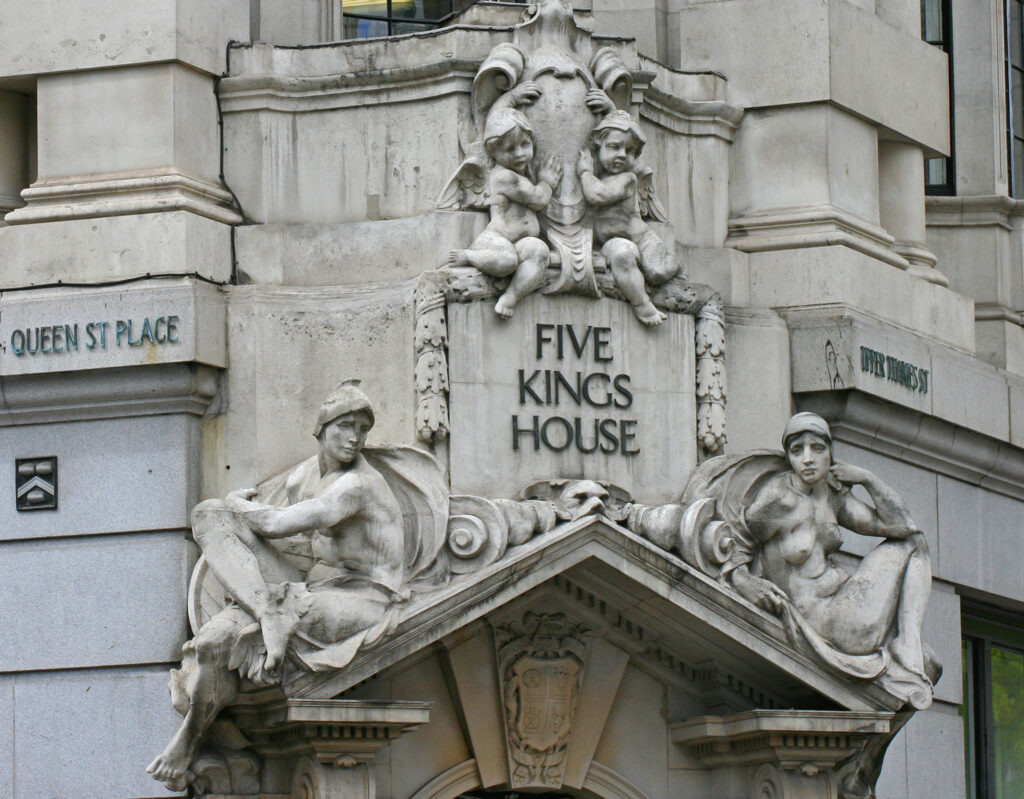 Throughout the building, the sculpture is of particular interest, including works by W. Bainbridge Reynolds, R. Garbe, G. D. Macdougald and F. Lynn Jenkins. Another noteworthy element, though technically not part of this building, but often mistaken for such, is the richly detailed portal just south of Thames House. This was actually part of the long-demolished Vintry House and was retained as a lateral entrance to the Vintners Place complex. It is a pleasing compromise between Neoclassical and Art Deco vocabulary of the sort that was rather common in Britain at that time, featuring sculpture by H. W. Palliser.
A full history of the Liebig processed foods empire would merit a separate article. In brief, it was founded in 1865 by G. C. Giebert, a railways engineer, in conjunction with the noted chemist Baron J. von Liebig. The latter had invented a system to reduce meat to an extract but the former realised that the South American beef industry (which had used cattle merely as a source of hides) would be an economic source of raw material. Among their many products are the famous meat extract and cubes, OXO cubes and Fray Bentos corned beef. The company was a pioneer in the use of distinctive branding (such as superimposing Liebig's signature, in blue, over the labels, as the "Liebig" name itself was said to have become a general usage term in a court case). They were also early and enthusiastic issuers of coloured collectible cards which became an advertising and merchandising staple through the late 19th and much of the 20th century. They remain collectible today.