currently the Threadneedles Hotel
5-6 Threadneedle Street, EC2
Built:  1855-56
Architect:  William and Andrew Moseley
Location:  Threadneedle Street
Listing:  Grade II  (1972)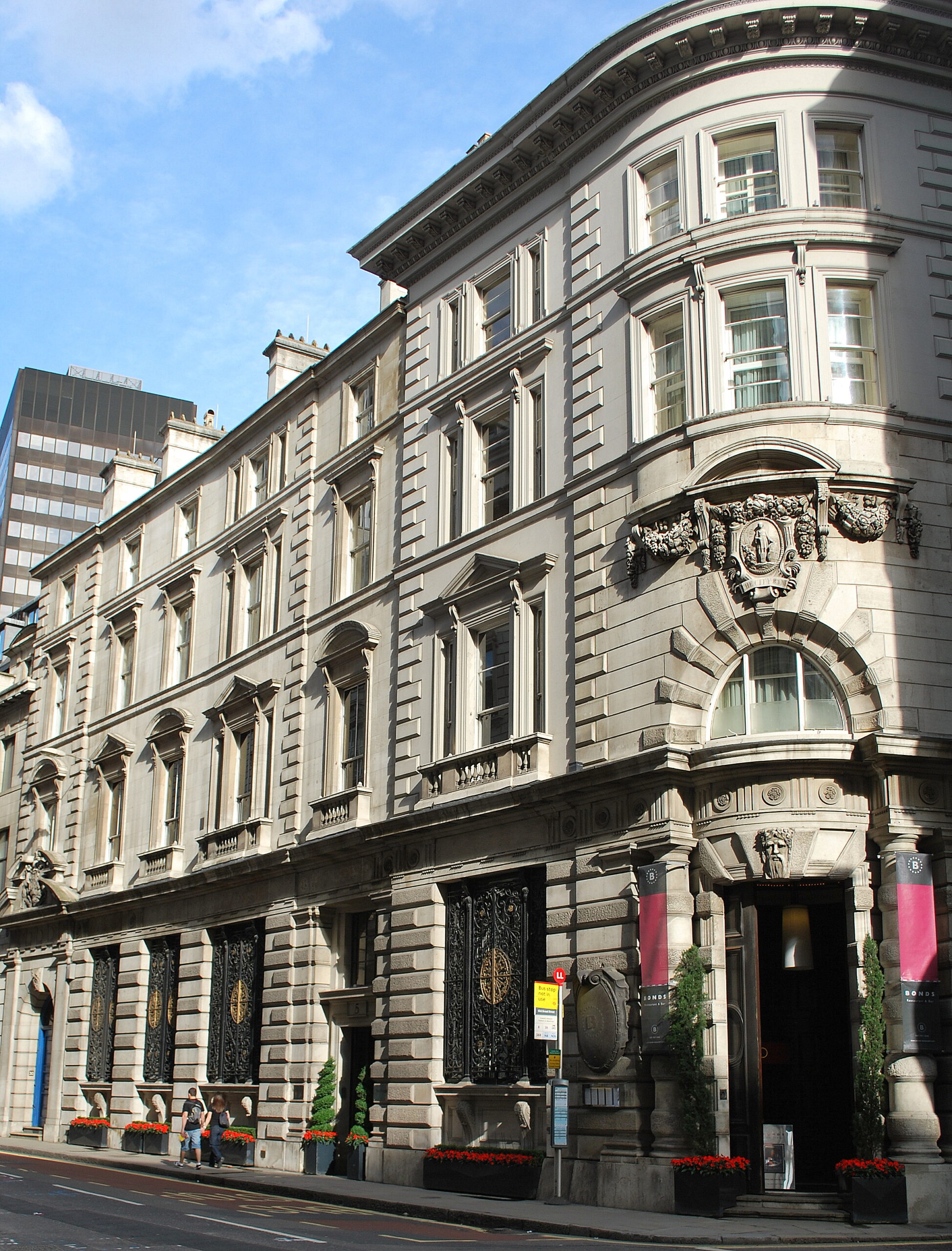 This building is an excellent example of a medium-sized but 'high-spec' palazzo of the type favoured by early joint-stock banks in the early to mid Victorian period. Indeed, these are the oldest surviving premises of such a bank, in the City of London. The former City Bank offices feature a rounded corner entrance and two aspects, at an obtuse angle, along Threadneedle Street and Finch Lane, totalling 10 window bays, excluding the further, narrow six bays of the later Finch Lane extension (1909) or the easternmost one that incorporates one of the two entrances into the Merchant Tailors' Hall.
The main elements of applied ornament, aside from the entrance, are the sharply carved quoins marking each section and pediments or subsidiary entablatures atop the windows. The ground floor is heavily rusticated with alternating plain-faced and reticulated facing. Furthermore, the ground-floor windows feature ornate wrought-iron screens and scrolled consoles springing from the aprons.
The gently rounded corner is a clear point of emphasis, containing the main entrance, framed by banded Doric columns (the order being implied, elsewhere along the facade). The flattened arch at the top of the entrance displays a strongly figured agraffe. Above the entablature there is a segmental window with prominent voussoirs, and the whole composition is surmounted by a pedimented lintel supported by consoles and featuring swags and the coat of arms of the City Bank.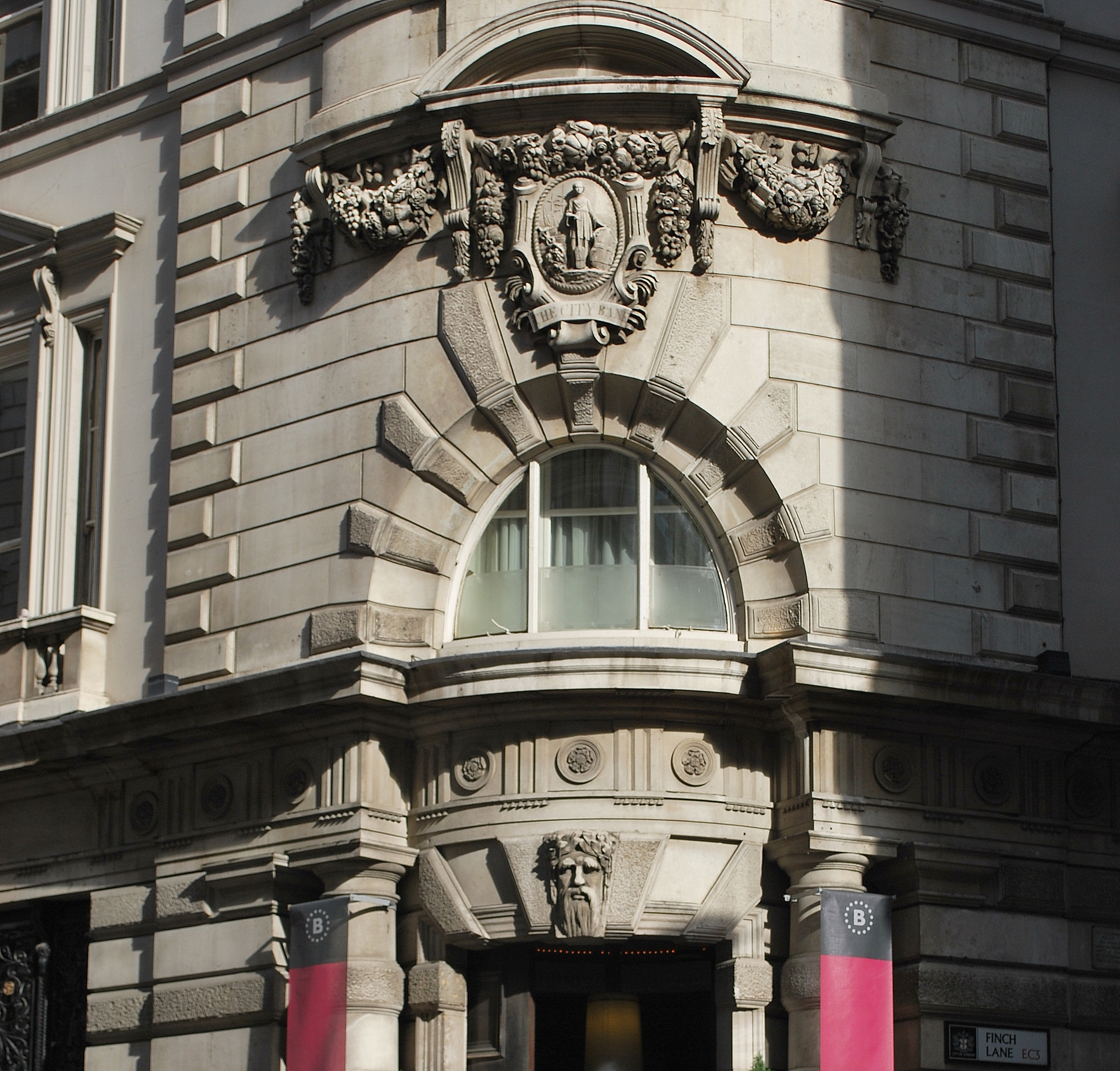 The overall effect is exuberant despite limited surface ornament above the ground floor. It seems quite encouraging that this long-unused building was turned into a luxury hotel, with a beautifully restored hall. The price of a drink at its bar buys you a front-seat view of the fine interiors.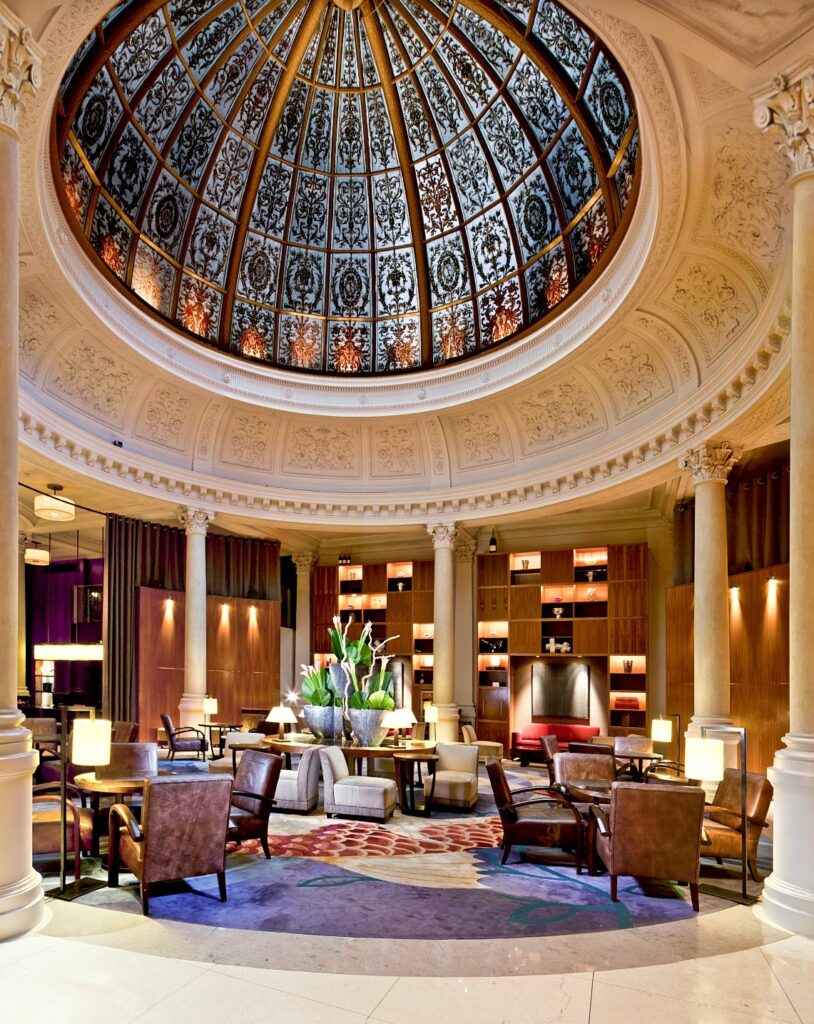 The City Bank was incorporated in 1855 under the leadership of City grandee Robert Walter Carden. By 1856 it had already moved into this purpose-built office block. Its main business was in international banking and bills discounting. Having added several branches in and around London over the years, it retained this address as its headquarters until merging, in 1898, with the London and Midland Bank. The merger negotiations were led by James Vanner, by then an influential figure in the City Bank. The merged bank changed its name to London, City and Midland Bank and was then the fourth largest bank in Britain. Between 1898 and the completion of the new head office on Poultry, this was the main London office of Midland Bank.