4 Moorgate, EC2
Built:  1913-15
Architect:  Dunn & Watson
Location:  Moorgate
Listing:  Grade II  (1977)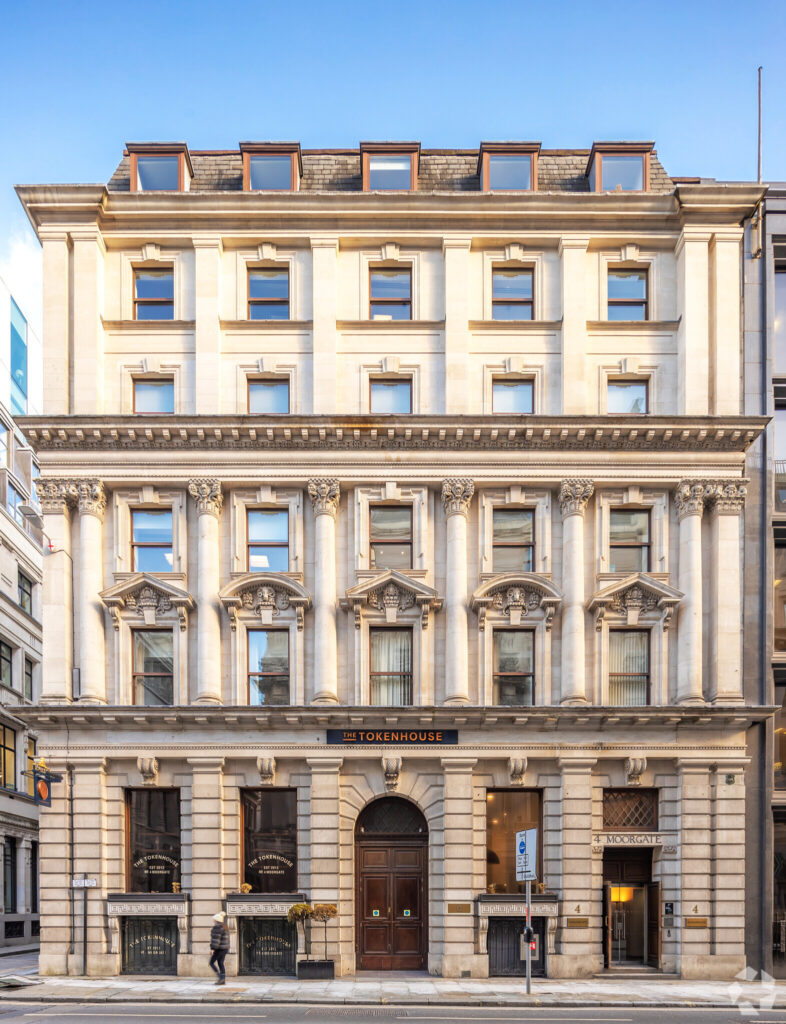 This purpose-built head office for one of the many British overseas banks was among the relatively rare projects that began just before the outbreak of he Great War and were finished during it, as opposed to being postponed to the 1920s. With an L-shaped plan, the British Bank of South America was built over five and a half storeys, presenting five bays along Moorgate and a longer return along King's Arms Yard. The latter also measures five (wider) bays across and, other than dispensing with the colonnade, it does not skimp on detail, relative to the more prominent façade.
The basement and raised ground floor, as is typical of commercial Edwardian Palladianism, are rusticated, with banded stonework and Doric pilasters. Two further storeys are fronted by a giant Corinthian order, with rather unorthodox capitals. This tendency for creative capitals can also be seen in Dunn & Watson's Scottish Provident, on Lombard Street. The windows on the piano nobile have open-base pediments. Following the upper, terminating cornice, the original arrangement was for two attic storeys, one of which was sharply set back. In 1976, Fitzroy Robinson altered the upper storeys to two non-recessed attics and a disappointingly plain dormer roof.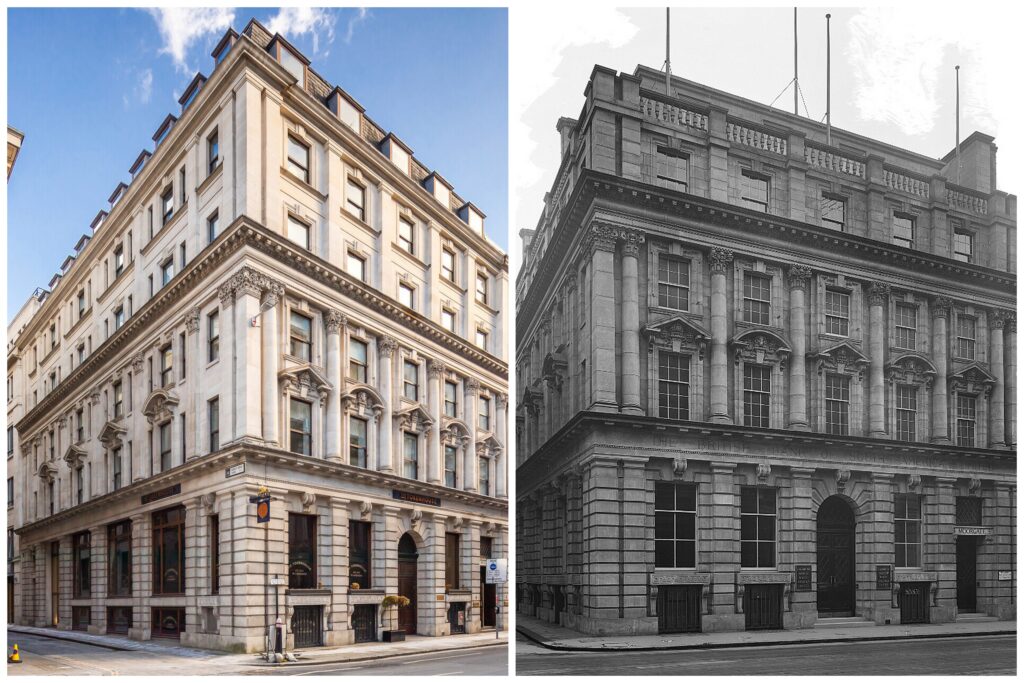 Other details include planters supported by consoles and decorated with a Greek scroll, at the ground floor, where the flattened window arches sport ancon keystones. The central entrance is not strongly differentiated other than by the arched opening. This building is relatively simple to describe due to a lack of convoluted massing or over-enthusiastic applied ornament. Instead, it projects order and solid elegance, which the later upward extension has failed to compromise.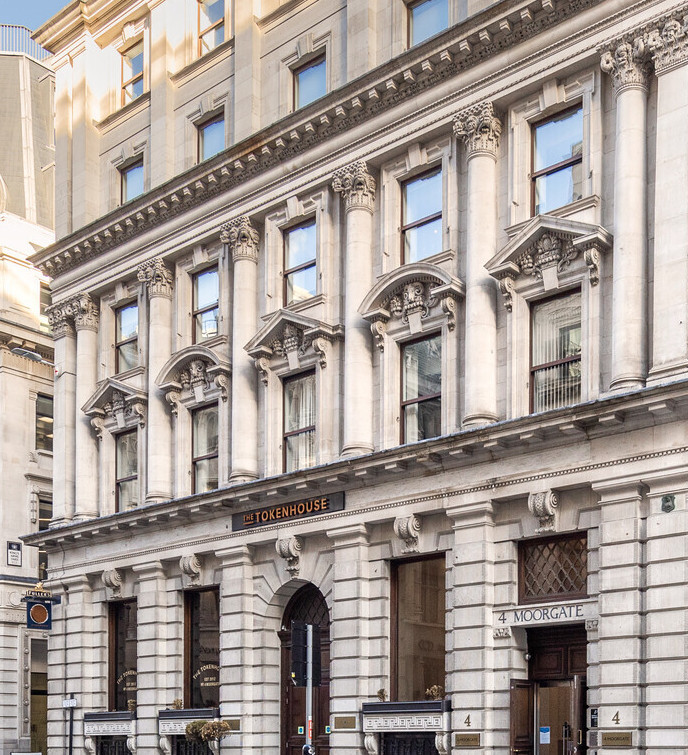 The (originally) nicely classical ground floor banking hall has been adapted into a large but otherwise undistinguished pub.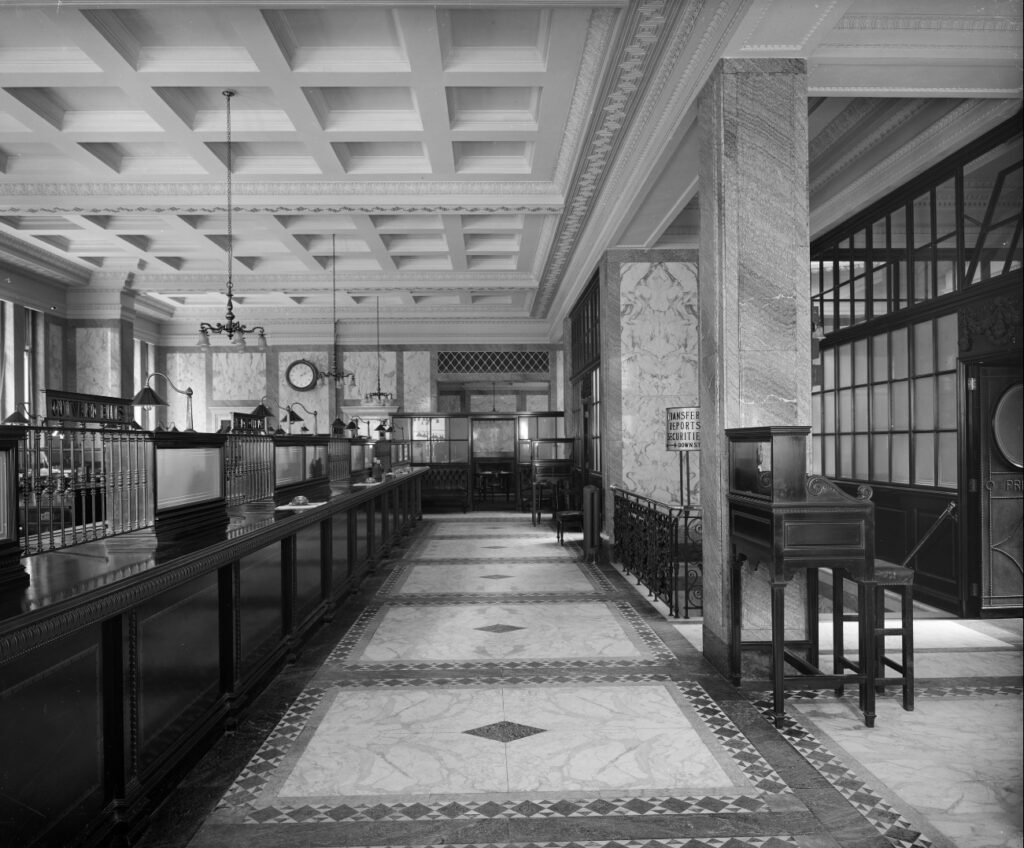 The British Bank of South America was founded in 1891, using funds from the sale to local investors of the English Bank of Rio de Janeiro (originally, the Brazilian and Portuguese Bank) founded in 1862. The 1895 flier shown below, which precedes this building, gives the head office address as No. 2a Moorgate and a subscribed capital of £ 1 million. The bank operated in Argentina, Montevideo and Brazil. In 1920, it was bought out by its rival, the Anglo South American Bank, which itself had to be rescued by the Bank of London and South America in 1936.