75 King William Street, EC4
Built: 1924, modified 1986-89
Architect:  Meakin, Archer & Co,  Fitzroy Robinson Partnership
Location:  King William Street
Listing:  not listed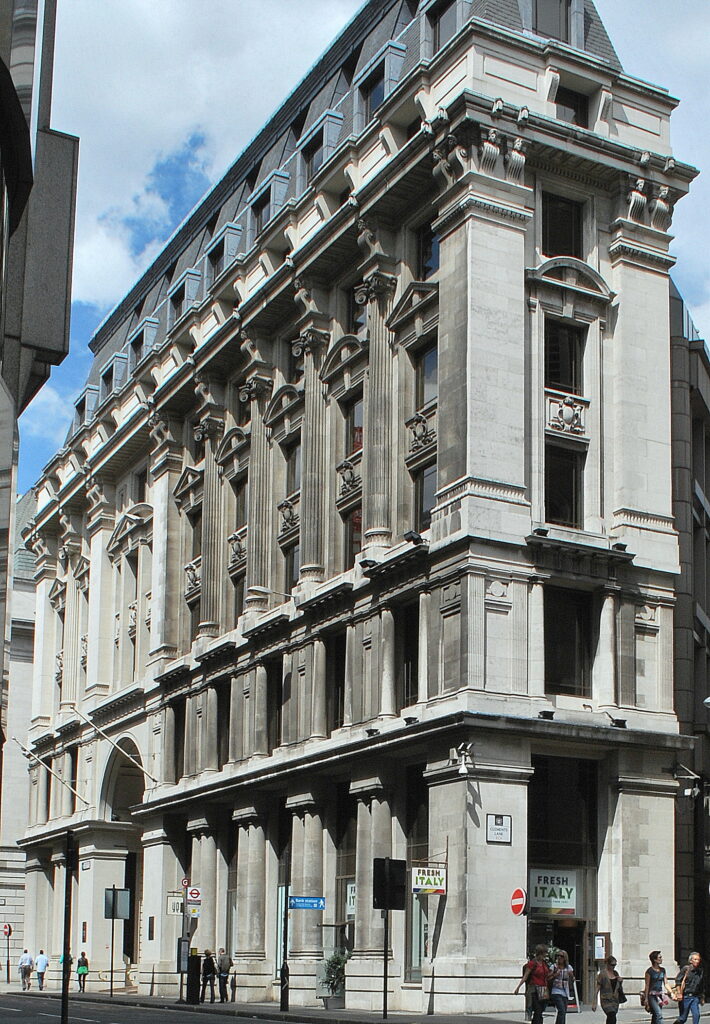 The asymmetric, Neoclassical façade at 765 King William Street consists of both the original 1920s Meakin Archer design as well as substantial 1980s modifications by Fitzroy Robertson. The building fabric behind the King William Street aspect was entirely redeveloped.
As far as we can discern, the five bays towards Clements Lane and the truncated corner belong to the original Standard Bank building. Conversely, the two matching bays towards Nicholas Lane and the off-centre segment containing the large entrance niche were added at the later date. Notwithstanding the asymmetric composition and unsympathetic side elevations and interiors, the King William Street aspect features a number of pleasing elements.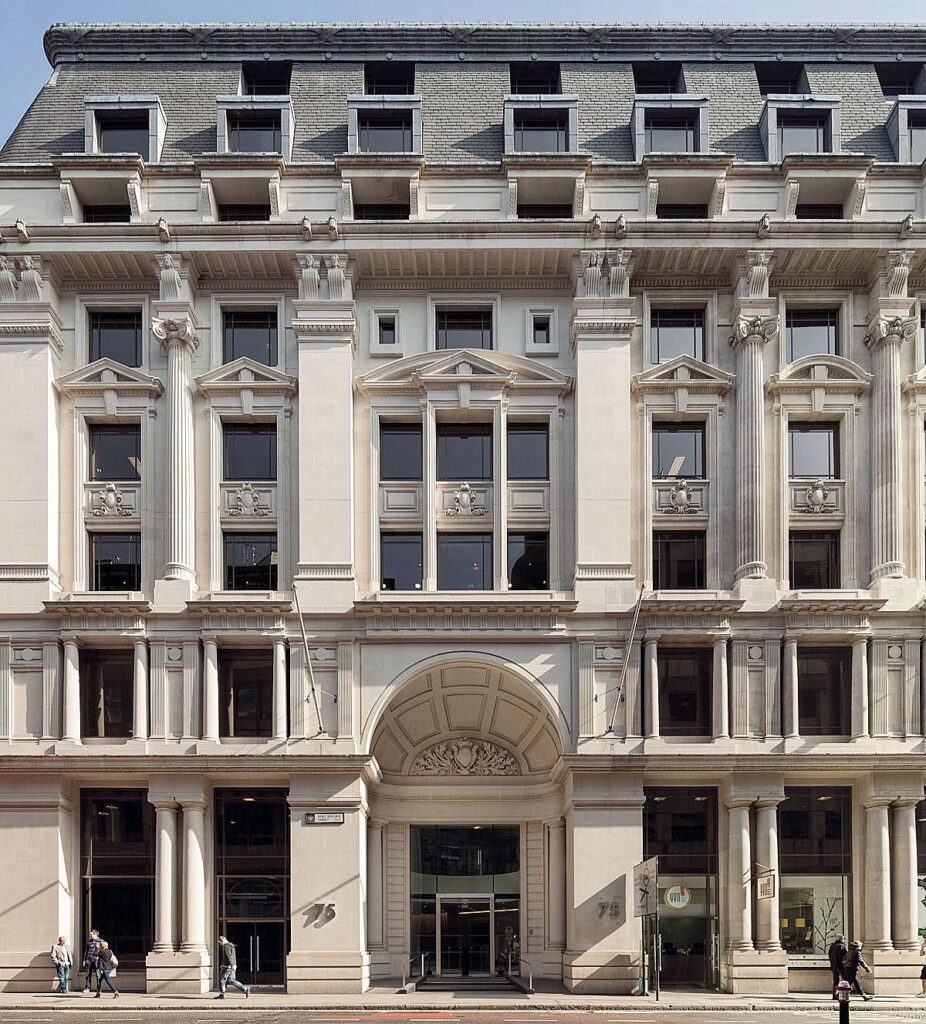 The ground floor dispenses with the more common rusticated base effect and consists instead of solid piers at the corners and around the entrance between which are interspersed coupled Tuscan columns. The mezzanine storey features fluted Doric pilasters and simplified Doric aedicules around the large windows. This is followed, in the successive three floors, by a giant Ionic order with an interesting set of subsidiary window aedicules that span two floor. The entablature below the principal cornice is only present in correspondence of the piers and columns.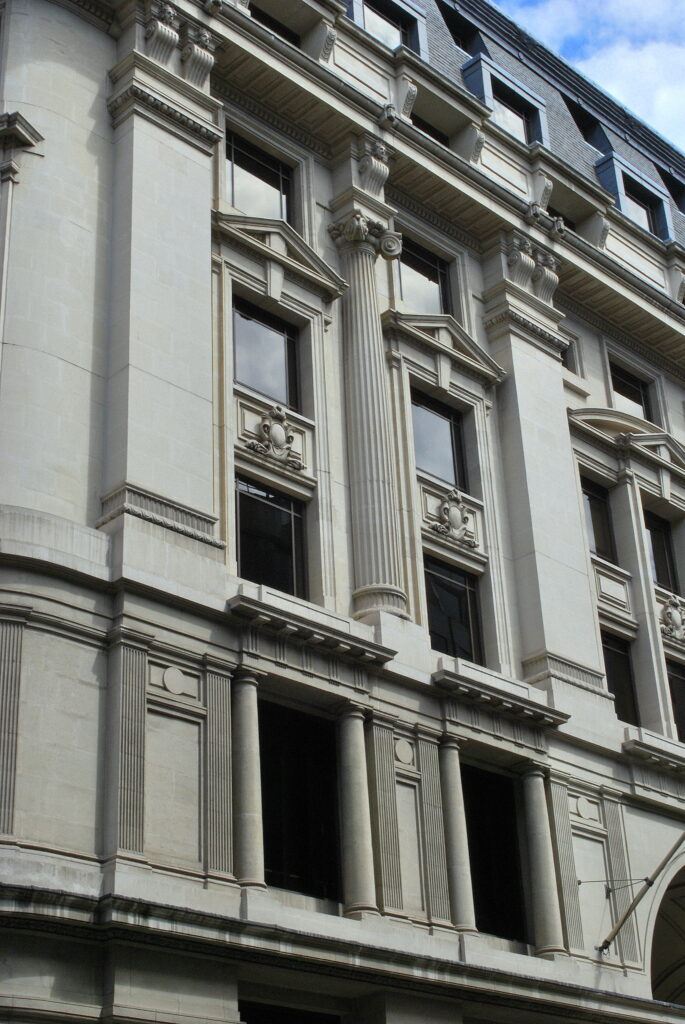 All those elements are reflected in the vertical entrance module but its most noticeable feature is the coffered hemispherical vault above the main entrance, together with a foliated tympanum and subsidiary Tuscan columns. The rounding of the corner at Nicholas Lane, which partly screens the indifferent modern aspect, is confidently executed.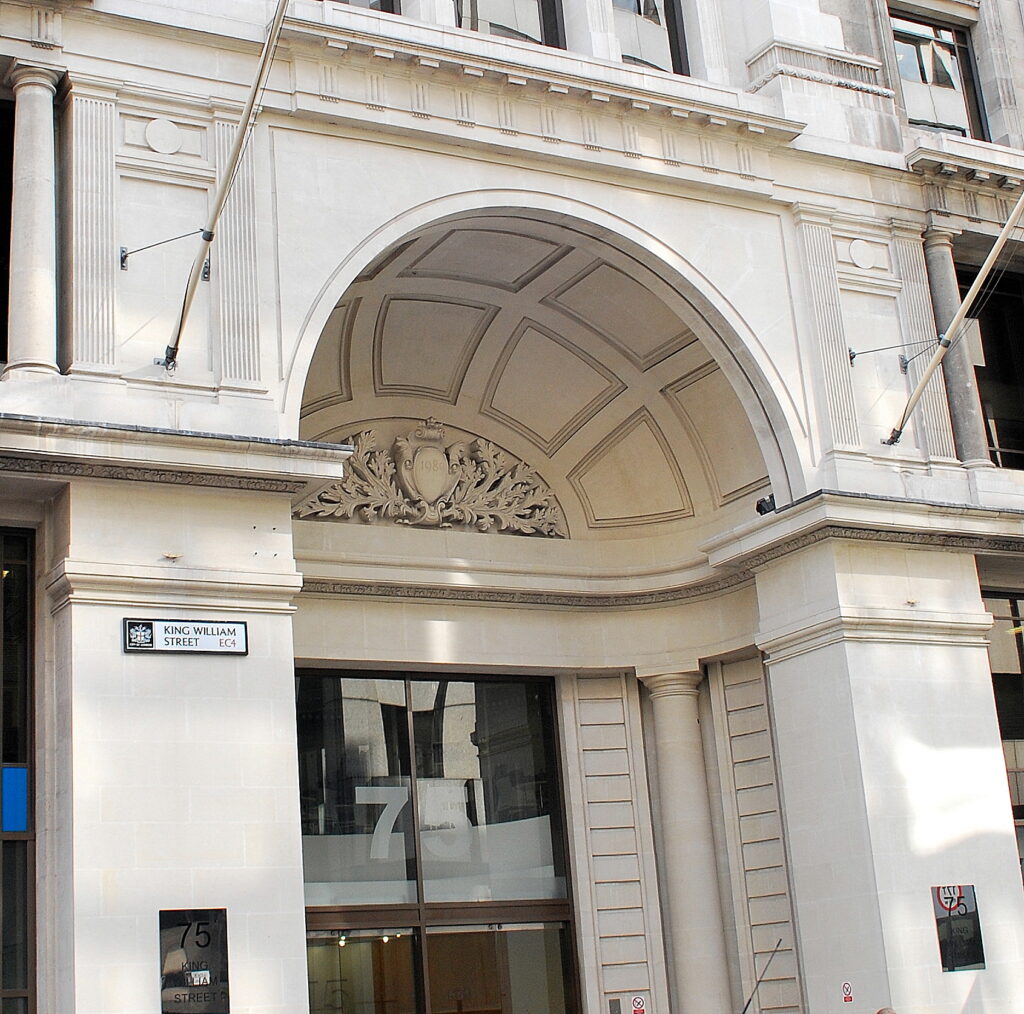 The history of Standard Bank is somewhat convoluted. It was founded in London in 1862 as an overseas bank, then named the Standard Bank of British South Africa, operating out of Port Elizabeth. It expanded rapidly, playing a significant role in financing the development of the gold fields there. Its first site in the settlement that later became Johannesburg was a tent. Having expanded to several African countries and dropped the "British" moniker, about a century after its foundation it merged with the Chartered Bank of India, Australia and China to become Standard Chartered. The latter, in the 1980s, spun off its South African operations, which have again taken the name of Standard Bank.