133-134 Aldersgate Street, EC1
Built: 1873-74
Architect: Charles Jocelyn Parnell
Location: Aldersgate Street
Listing: Grade II (1977)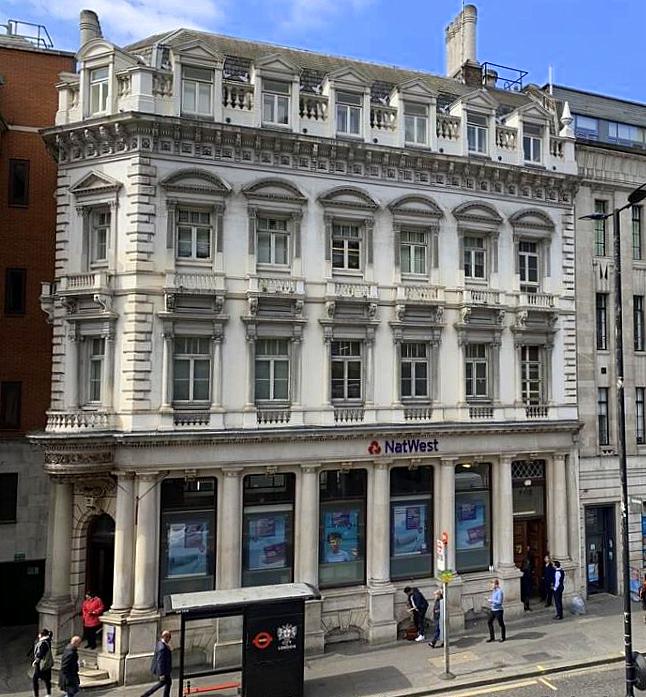 This is a fine example of 'Italianate' commercial architecture in the mid-Victorian period, offering more detail than some buildings of earlier mid-C19 vintage but retaining a rather orderly arrangement of the whole. The plot occupied by the former offices of the London & County Bank covers N. 133 and 134 along Aldersgate Street, an important and ancient north-south road that has periodically experienced wholesale reconstruction. The N. 134 plot was formerly occupied by a late Tudor building known alternatively as the Half Moon Inn and, in local lore, as Shakespeare's house.
Currently known as Alders House and partly occupied by a branch of NatWest, this building presents a six-bay main prospect along Aldersgate Street, with a canted corner containing the main entrance.  The ground floor boasts a nicely rendered Roman Doric order of lightly engage columns built upon a low basement and fronting full-height windows whose only accents are nicely foliated corbels at their apex.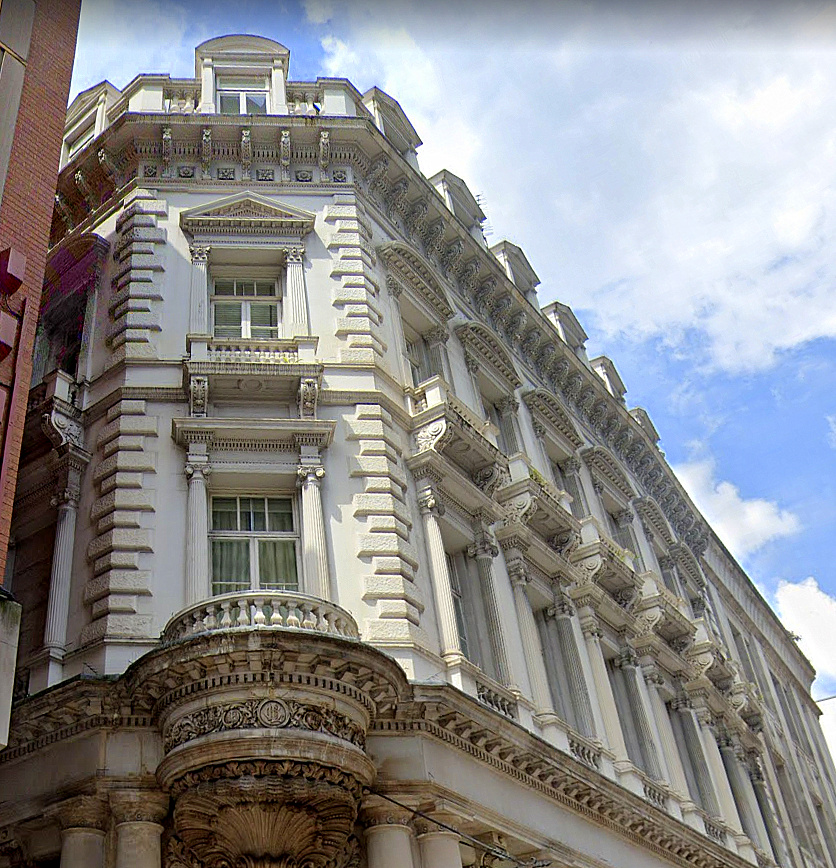 Above the ground floor's entablature, we find two storeys characterised by richly aediculated window surrounds.  The lower of these two with ionic subsidiary columns and balustraded balconettes and the uppermost with segmental pediments, Corinthian pilasters and full balconies supported by consoles.  This section terminates in a lively cornice above which there is a dormer roof with pedimented luthernes.  The corners of the façade feature prominent quoining.  The entrance bay boasts the most lively composition of the whole, with coupled columns surrounding the doorway and, surmounting it, a circular balcony with opulent friezes (including a cartouche with the 'LCB' initials), supported by rather Baroque scrolled shell moulding.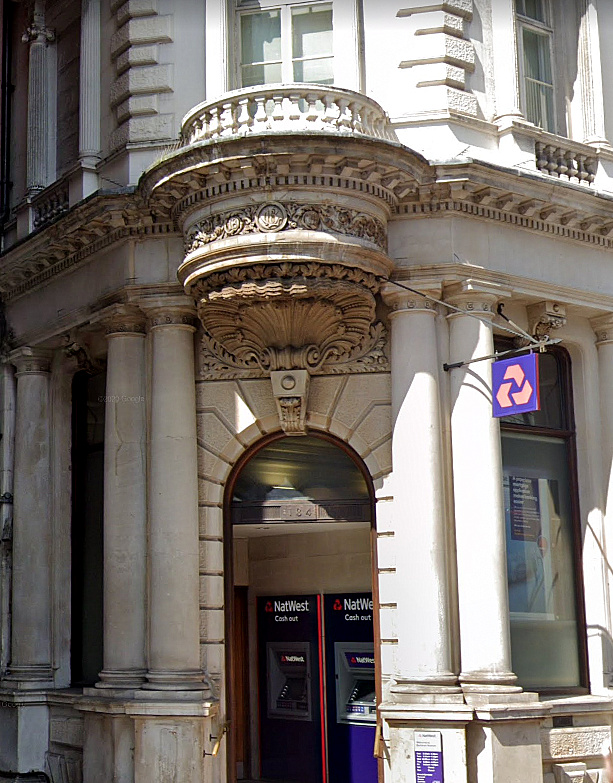 The London & County Bank began as the Surrey, Kent and Sussex Banking Company in 1836, soon establishing its head office at 71 Lombard Street (later at 21 Lombard Street).  It was renamed The London & County Bank, reflecting rapid growth in the capital in 1839.  By 1875 it had over 150 branches and was for some time the largest British bank, having taken over 19 existing banks.  In 1909 it merged with the London & Westminster Bank (founded 1834, the first under the Bank Charter Act 1833), creating the London County and Westminster Bank.  In 1918, it took over Parr's Bank, creating London County Westminster and Parrs (which became simply Westminster Bank in 1923), one of the largest banks in the world.  In turn, Westminster Bank would join up with the National Provincial Bank in 1968 to create National Westminster Bank.  The building at 133-134 Aldersgate Street was built as a branch of the then London & County Bank and appears to have been retained by successive banking entities for nearly 150 years.