81-83 Gracechurch Street, EC3
Built:  1874
Architect:  Henry Simpson Legg
Location:  Gracechurch Street
Listing:  Grade II  (1977)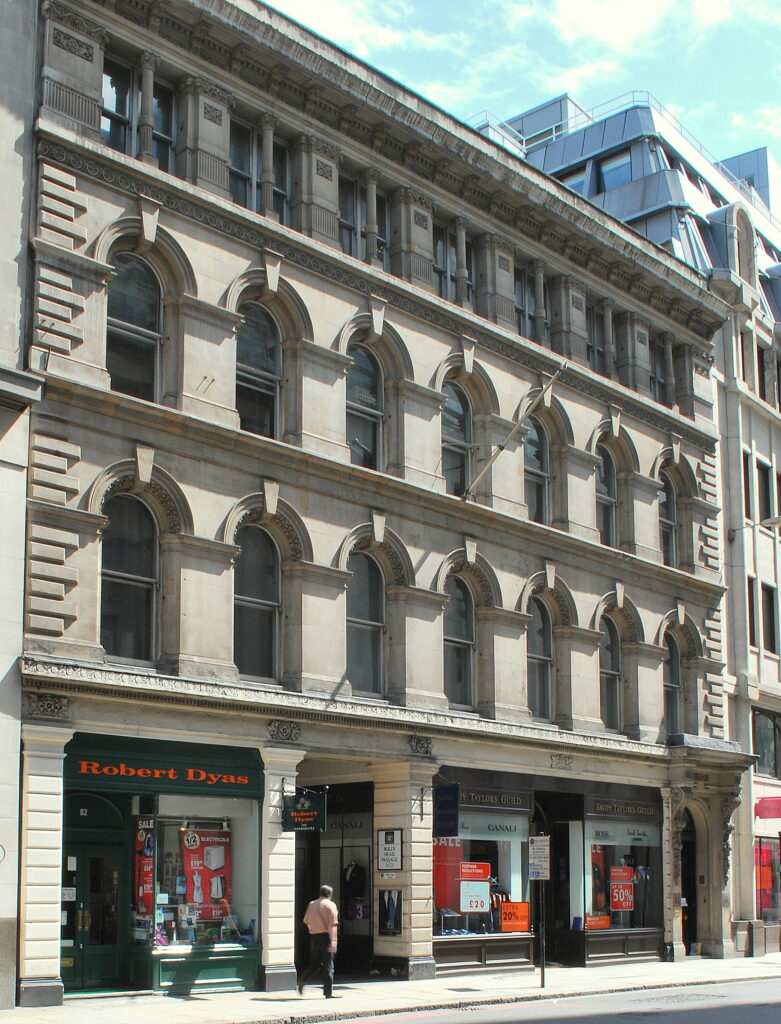 This interesting Victorian palazzo is among the oldest survivors along Gracechurch street. The ground storey, designed for retail use and incorporating the entrance to Bulls Head Passage, takes a plain trabeated form. Its channel-joined pilasters support a simplified entablature that features imaginative but widely distanced floriated reliefs in the frieze. The second and third storey are more substantial, with chamfered quoins and arched windows. The latter are bordered by rather intricate mouldings and display prominent keystones.
Fascia decorated with a Vitruvian scroll (below) and guilloche (above) border the intermediate, astylar floors. The attic storey is more floridly decorated, with colonnettes, fluting and compound Corinthian piers below an ornate cornice. This has the effect of drawing the eye towards the top of the building, which is well organized and regular in its articulation. Together with its human scale, these qualities confer a sense of sobriety, despite its ornamental variety.
Documental evidence shows that the upper storeys housed the offices of Harris and Dixon, a long-standing and respected shipping firm specialising in colliers, shipping brokerage and 'tramp' steamers. The origins of the brokerage business go back to the late 18th C. and the shipping business was founded in the 1870s. Descendant companies still exist, though not based here.