5 Lothbury, EC2
Built: 1886
Architect: not known
Location: Lothbury
Listing: Not listed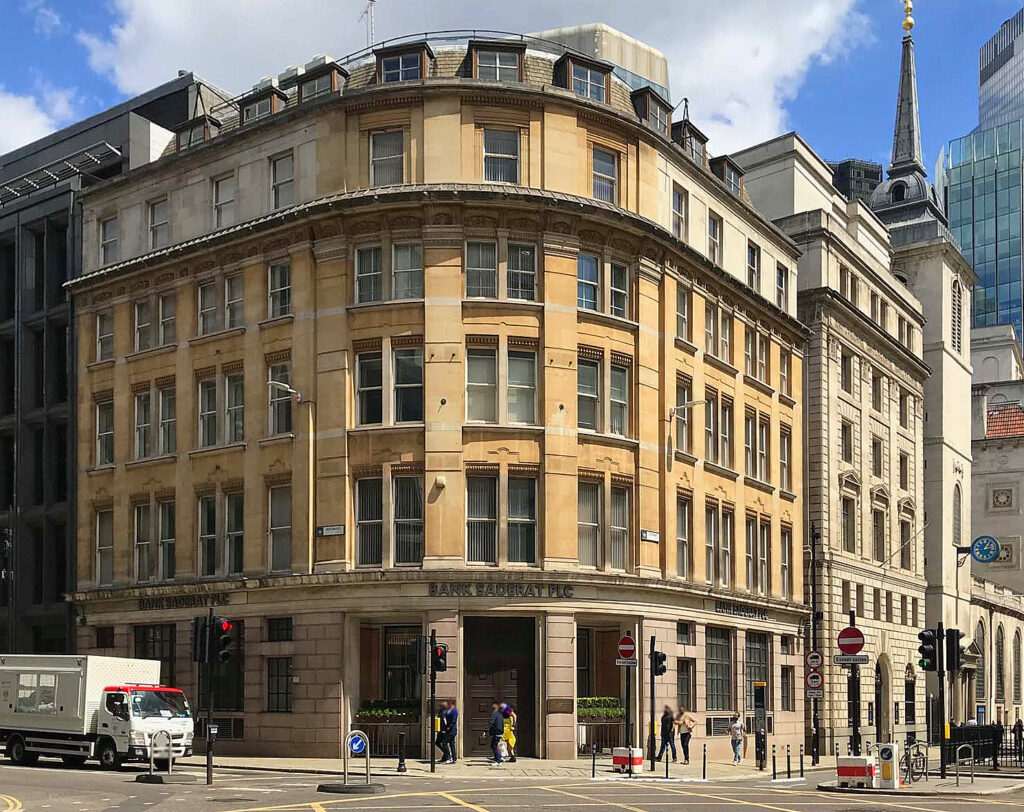 Occupying a prominent corner site at Lothbury and Moorgate/Princes Street, the building at n. 5 is articulated around the diagonal axis that intersects said corner. The 6-bay side elevations, along Lothbury and Moorgate, are separated by a rounded corner that contains the central entrance.
The cladding of the principal three storeys, above the rusticated, granitic ground floor, is of warm-hued Bath stone.  Surface composition is limited to pilasters between each set of windows, incised window aprons and detailing of the upper window lintels.  The frieze of the cornice consists of idiosyncratic but pleasing carved spandrels alternating with diglyphs of vaguely Doric derivation. There is a further attic storey and a recessed mansard roof.
The only records linked to the original completion date are for modifications to the drains and show F. R. Inderwick as applicant, but according to Simon Bradley he was not an architect. Subsequent modifications were carried out in 1926 (Blomfield & Driver), 1955 (Watson, Salmond & Gray and 1969.
British Law Fire Insurance was founded in 1888 with the backing of legal professionals (as the name suggests).  After initially meeting at Rectory House and 117 Cannon Street (both standing), according to company minutes they acquired a long lease on 5 Lothbury in the same year they were founded via the surveyors Farebrother & Ellis. It subsequently subleased part of the building to numerous tenants. the British Law Fire Insurance was eventually acquired by the London Assurance and subsequently by Sun Alliance, in 1918, at which point it moved out of 5 Lothbury.  The building has been occupied by a succession of later tenants including Caledonia Insurance (from 1927), Marine Midland Bank (US) and Bank Saderat (Iran).