14-16 Eastcheap, EC3
Built:  1890
Architect:  not recorded
Location:  Eastcheap
Listing:  not listed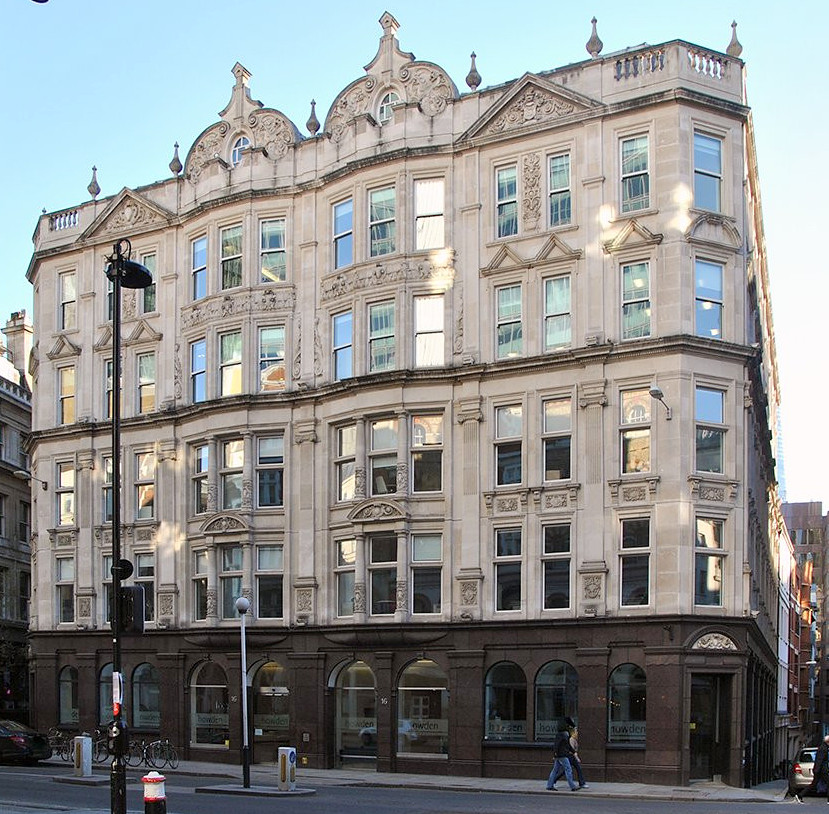 The available literature tells us little about the original client or architect for this fine, gabled building that spans a short block on Eastcheap. Directory entries post-1890 show multiple occupancy and this would appear to be one of the many speculative office buildings erected in the City, especially from the 19th C. onward. Note that the address is shown variously as 14-16, 16-20 and 14-20 Eastcheap.
The current structure is an interesting building in a transitional "Northern Renaissance" style which is shorthand for a mixture of Classical and late-medieval elements. Save for the materials, most of its elements would not look out of place in a late Jacobean manor. On balance, though, once you get past the eclecticism of the gables surmounting the two central bays, the overall arrangement is heavily based on Classical devices. Note, for instance, the brown South Dakotan granite base, with both arcuated and trabeated forms and how it anchors the lower portion of the building. Superimposed pilasters and nicely rendered pediments define the lateral sections vertically, while the horizontal punctuation is provided (above the ground floor) by the two main cornices. The balustrade and finials, together with the gables, contribute to a lively skyline.
If the specifics of the current building are uncertain, the history of its location is better documented. Here stood St Andrew Hubbard, a long-established church that was not re-built after being destroyed in the Great Fire. Subsequently, the King's Weigh House, was moved here, at the corner of Lovat Lane (having previously been on Cornhill). Over time, the Weigh House was converted to a noted chapel for religious dissenters. This was moved to larger premises in 1834 at Fish Street Hill. The construction of the current building, like that of many others on the south side of Eastcheap, follows the street widening of the early 1880s.