1-2 Gracechurch Street, EC3
Built:  1908
Architect:  H. S. Saunders
Location:  Gracechurch Street
Listing:  Not listed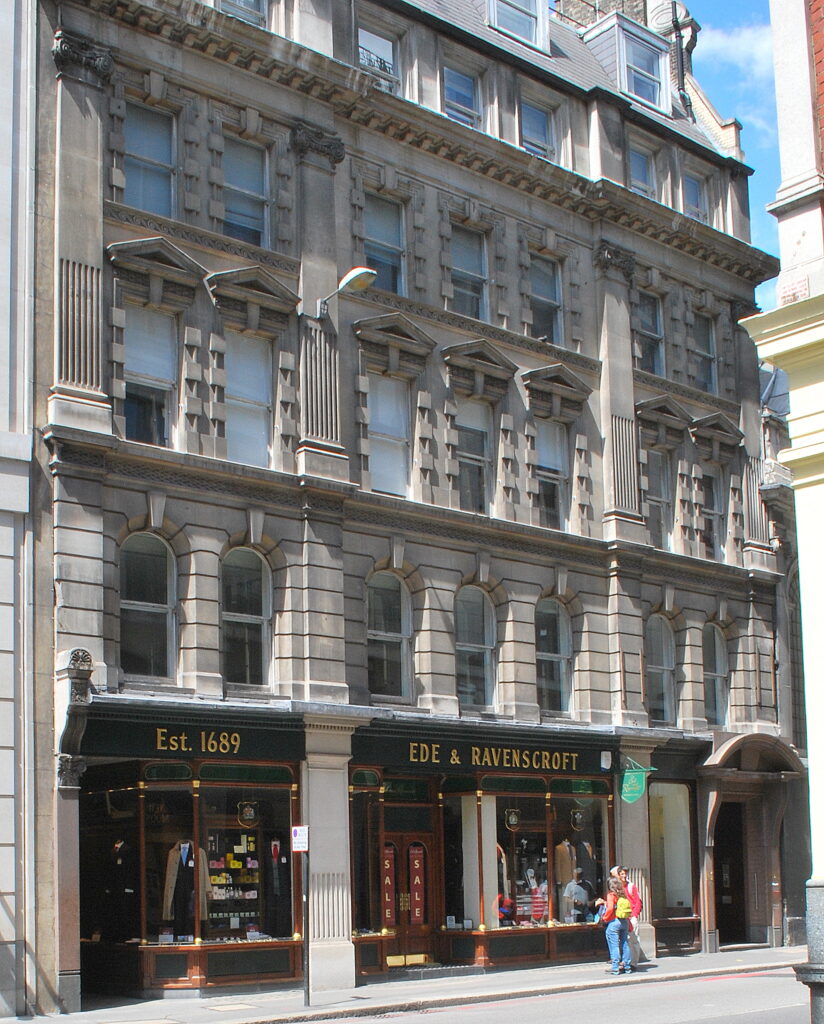 This solid commercial edifice, like several other buildings along Gracechurch Street, devotes its ground floor to retail shops. In this case, the voids between the Doric pilasters, passage and entrance retain what looks like the original shopwindow furniture, currently occupied by the long-established tailoring firm of Ede & Ravenscroft. The second storey Is also part of the base portion, more substantial in this thanks to marked channelling, prominent keystones and arched windows.
The following two storeys, composing the central portion of the vertical arrangement, feature a giant order of partly fluted Ionic pilasters and bold blocking around the window surrounds (both the pedimented third-storey ones and the lugged fourth-storey openings). An attic storey and mansard roof rise above the main cornice. The central bay is recessed very slightly, providing subtle articulation. We have found virtually no information about the present, Edwardian-era building or its commissioning client. The earlier history of the address is more rewarding. Records indicate that this section of Gracechurch Street was particularly rich in the variety of small-scale occupants. No. 2 was the address for the firm of Spink & Son from 1770 until 1902, when they moved to Piccadilly. Following their departure, the buildings at No. 1 and N. 2 were replaced by the current one. Spink & Son was founded in 1666 and remains in existence. Over the decades they became specialised in numismatics and remain prominent in that trade.