39-41 New Broad Street, EC2
Built: 1907-08
Architect: Arthur Conran Blomfield
Location: New Broad Street
Listing: not listed
In 1989-90, the interior of four Edwardian buildings along the north side of New Broad Street was entirely replaced by the T P bennet partnership, with only the frontal aspects being preserved. Three of those were consolidated into a single structure, known currently as New Broad Street House (at n. 35). Since the focus of this research is the evolution and enduring presence of Neoclassical external aspects in the City, we will treat each retained façade independently, referencing the buildings they used to front when originally constructed.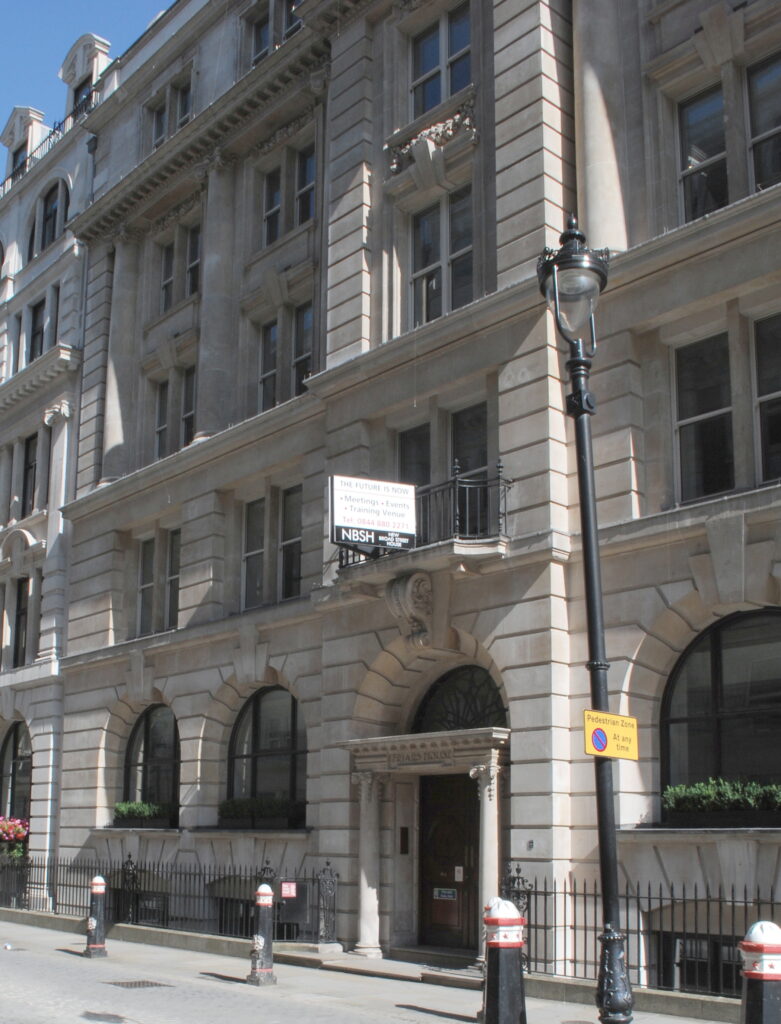 At n. 39-41 we find Friars House, built in 1907-08 like its neighbour Orient House.  Also like its neighbours, it was the sort of speculative, multiple occupancy building that made up a considerable portion of the City of London from the late Victorian era onward.  Soon after its construction, it was occupied by the Commonwealth Bank of Australia. Two architectural historical points are of some interest. The architect, AC Blomfield was a relatively prominent one at the time and Friars House was the first building in the UK to be constructed using the Kahn system of reinforced concrete framing. None of that original structure was retained when TP bennet converted Friars House to a portion of New Broad Street House.
Architecturally, Friars House features five wide bays and is well-proportioned and symmetric about the central axis.  Among the interesting details we would count the fact that the banded rustication extends from the ground storey to the mezzanine and indeed all the way to the main entablature via the lateral and central piers.  The giant Ionic order and framing of voids is elegant, eschewing the more heavily charged effect found in many other buildings of this period.   The main entrance, in the projecting, single-bay section, is marked by a large ancon supporting a balcony and a subsidiary Ionic aedicule.