36-38 New Broad Street, EC2
Built: 1907-08
Architect: Frederick William Marks
Location: New Broad Street
Listing: not listed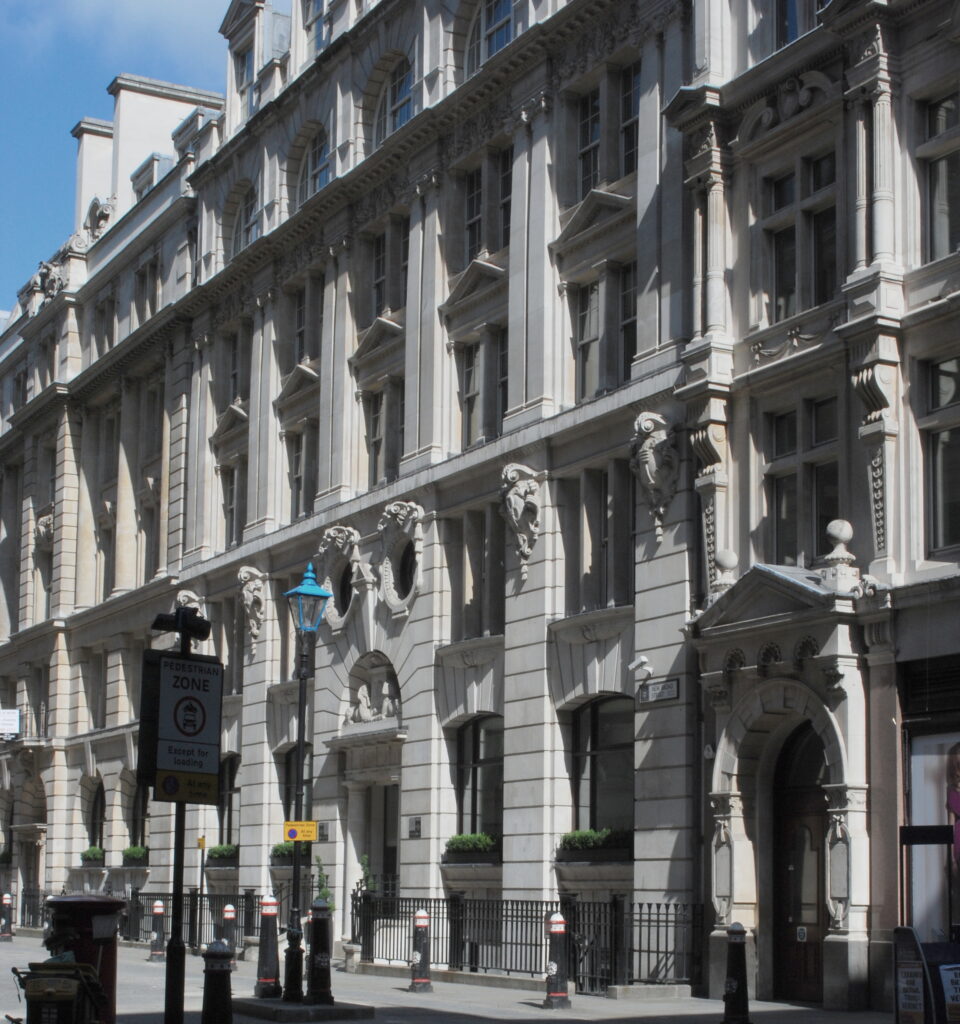 In 1989-90, the interior of four Edwardian buildings along the north side of New Broad Street was entirely replaced by the T P Bennet partnership, with the frontal aspects being retained.  Three of those were consolidated into a single structure, known currently as New Broad Street House (at n. 35).  Since the focus of this research is the evolution and enduring presence of Neoclassical external aspects in the City, we will treat each retained façade independently, as the building they used to front when originally constructed.
The entrance now marked n. 35, and previously listed as n. 36-38, belongs to Egypt House. Built at the same time as Friars House, next door, Egypt House presents a similar articulation: 5 storeys (plus lutherne dormers in the mansard roof) and a central bay including the main entrance.  The overall effect is somewhat more profuse than its neighbour, however; slightly more fanciful.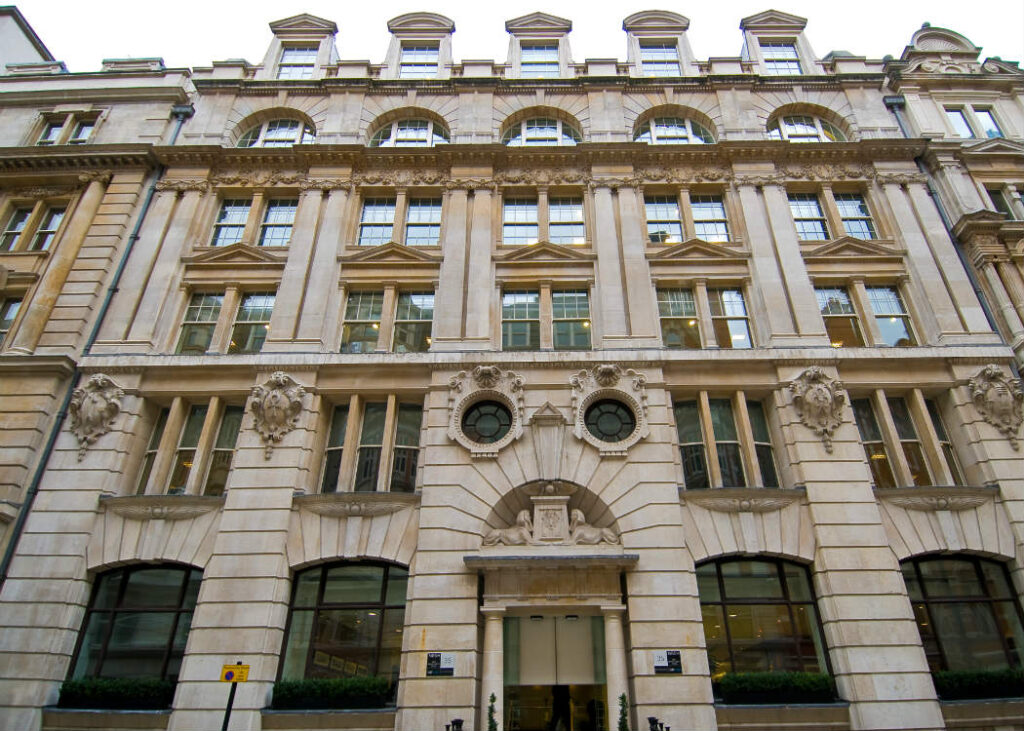 The rusticated base, with banded stonework, spans two full storeys: the ground floor with rather simple windows sporting elongated voussoirs and the equally straightforward mullion windows on the first floor. The ornament, at this level, is concentrated on the entrance itself and the escutcheons that surmount the banded piers. The following two storeys feature an unusual Ionic order of coupled pilaster, en ressault of the main entablature. Arcuated fenestration is repeated in the attic storey.
The entrance is worth separate mention. A rather stolid, pier-like background is pierced by an arched niche that contains an aedicule consisting of a somewhat stylised Doric order surmounted by Egyptian sphinxes flanking an obelisk's base that is capped by further Egyptian-themed sculpture (all by Daymond & Son). Above that, two ornate oculi flank the prominent, pedimented keystone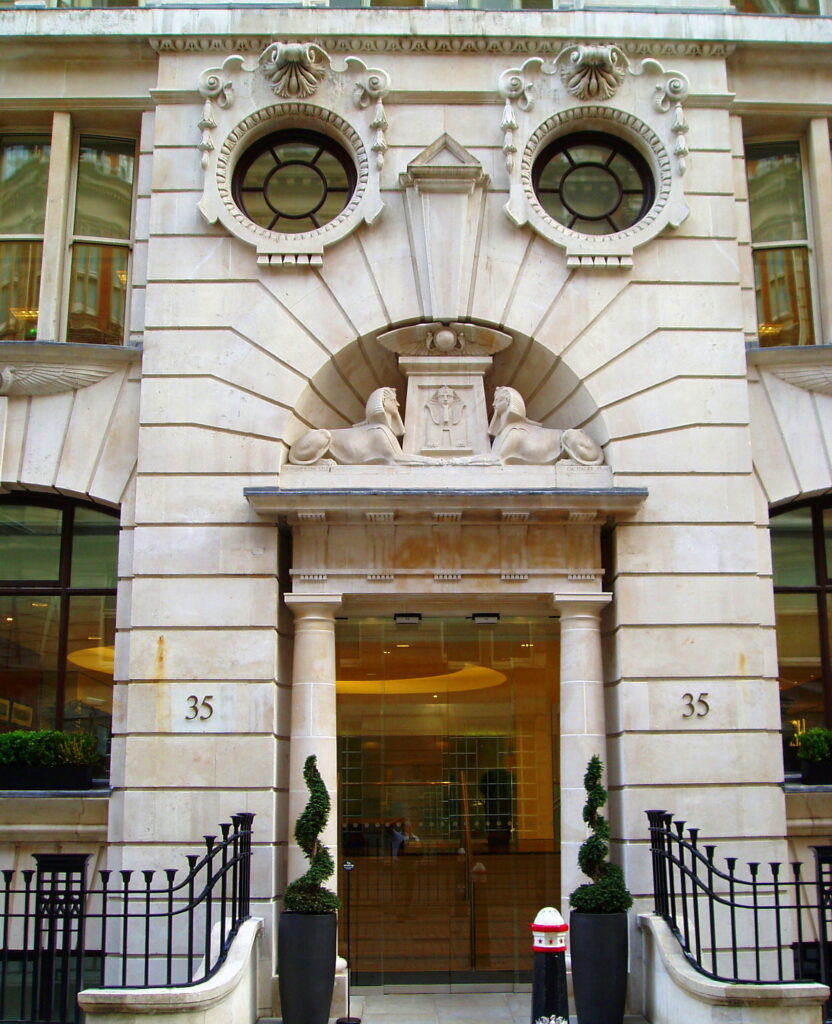 This relatively rare example of Edwardian Egyptomania gave the building its original name. From 1913 to 1931 it housed the London Offices of the Commonwealth Bank of Australia. Through much of the post-WW2 period (we have documentary evidence from 1946 to 1975), Banco Bilbao was based here and the building was known as Bilbao House.