117 Fenchurch Street, EC3
Built: 1921-23
Architect: Edgar Stones and William Gillbee Scott
Location: Fenchurch Street
Status: demolished in 2014
The rate of destruction of viable pre-war buildings in the City of London has been rather modest, since the 1990s, but it did not spare the rather fine Cory Building, which we describe and document below.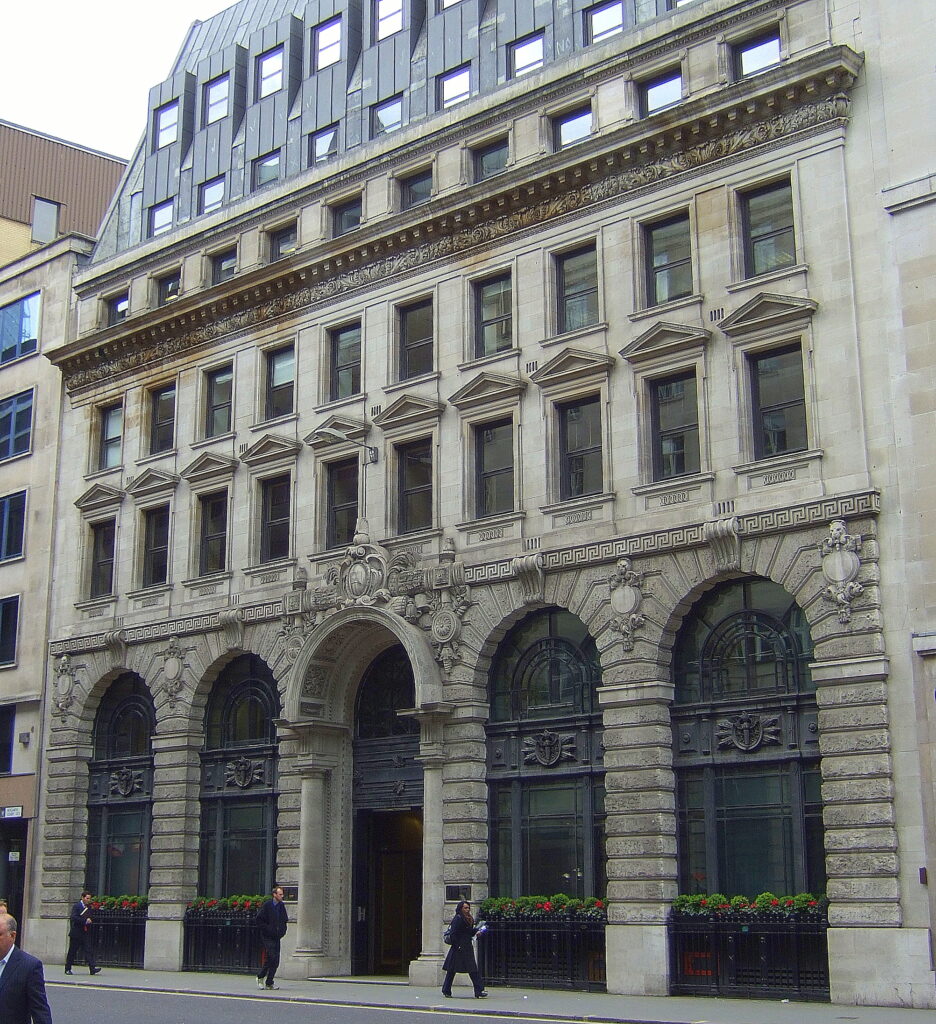 Leaving aside a shoddily executed and disproportionate mansard roof added in 1976, the facade presented a classical proportion of width relative to height. The ground floor and mezzanine were clearly set off by bold rustication but also relieved by five double-storey arched bays, with the simplified pilasters serving as abutments to classical arches. The arch motif was repeated and emphasised by the central entrance, featuring distyle Doric columns and a pleasingly deep ante-vault. Decorated bronze panelling and window frames help further define the openings. The base is followed by a piano nobile with gracefully pedimented windows and a further storey, below an impressive but not overwrought cornice and attic.
Most of the interesting details, other than scrollwork frieze and corbelled cornice, were found at the base of the building. The ground-floor spandrels were enriched by carving groups each containing a leonine mask, foliation, scrolls and a medallion. The Arches were surmounted by prominent ancons and the whole base was terminated by a band of Greek-key relief. The coffered vault portico was framed by a complex set of sculpture, centring around an escutcheon showing the flag of the Cory Lighterage Co. Additionally, the bronze panels that demarcate the mezzanine from the ground floor were decorated with flaming caducei superimposed on stylised starbursts and flanked by fasces.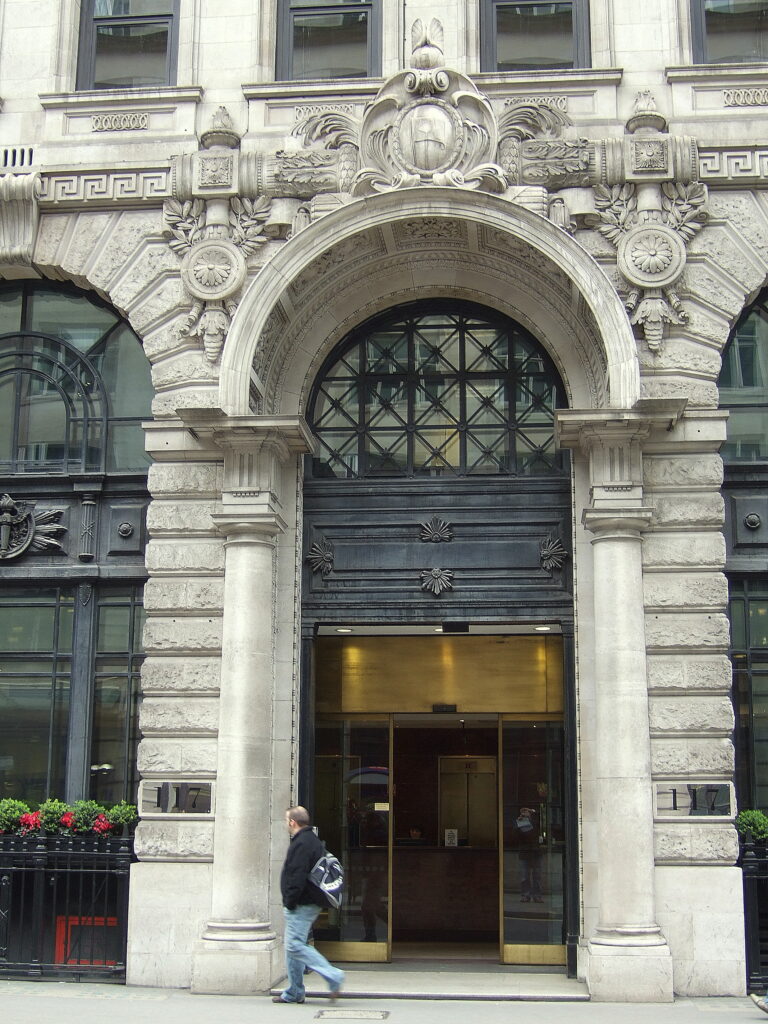 The overall effect of this building hewed expertly to the classical concepts of symmetry, regularity, legibility and surface relief of mass. It conveyed grandeur without unnecessary heaviness or complex articulation.
This section of Fenchurch street was formerly the site of the Ironmongers' Hall. The first iteration of the hall dates back to the mid-15th C. after which it was rebuilt in 1587, survived the Great Fire and was given a third re-build in 1745. That building lasted until WW I, when it was damaged by German bombing. After the war, the Ironmongers decided to move their hall to Aldersgate Street, selling the site in Fenchurch Street to the Cory Lighterage Company which built new headquarters there.
William Cory & Son was founded 1896, amalgamating eight companies engaged in coal distribution (via rail and, mainly, lighterage). It quickly expanded into waste disposal and, under various guises, has lasted up to the present, specialising in waste disposal and energy reclamation and still centred around the River Thames.